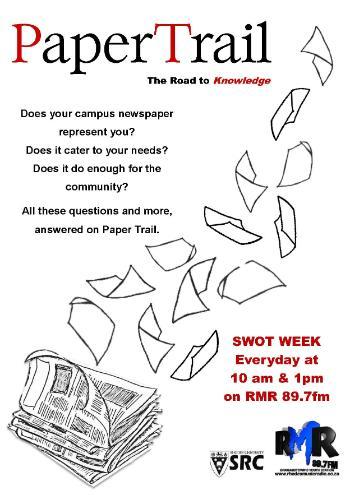 The JMS2 broadcast students in collaboration with Rhodes Music Radio present a series of shows to be aired on RMR throughout SWOT week. The series, entitled 'Paper Trail' comprises of ten shows, each dealing with a different aspect of campus student newspapers at Rhodes and other universities in the country.
Two shows will be aired a day, one at 10am and another at 1pm, with all of the shows interlinking their topics to provide you with a broader insight into campus print media in the South African media landscape.
RMR and the School of Journalism and Media Studies encourage you to tune in to these shows. Be informed and entertained as Paper Trail takes you on the road to knowledge.
The shows are available on Activate online, an hour after broadcast, should you happen to miss any one of them.
Line-up
Monday
10am: History
It's been said that you don't know where you're going until you know where you're from. Kicking off the series, this show looks at the history of student print media and how it has affected the campus print media we see today.
1pm: Ethics
Dealing with the ethical issues of campus print media, this show looks at past cases of positive and negative ethical issues in student based print media, as well as how they affect the relationship between Rhodes University and the broader Grahamstown community.
Tuesday
10am: Democracy
Just because they're student newspapers, it doesn't mean that they shouldn't have access to the same rights as professional newspapers. This show investigates the extent to which student press at Rhodes can enjoy their right to freedom and access information. Tune in to find out.
1pm: Agenda-setting
Looking at the issue of agenda setting in student news, this show investigates the degree to which students are represented in their student newspapers and who makes the decisions about what content gets published.
Wednesday
10am: Training ground
Rhodes University is known for producing exceptional young journalists, but how much does the Rhodes School of Journalism do in providing its students with practical experience? Where do student newspapers fit into this? This show aims to look at student print media as a training ground for students.
1pm: Literacy
Literacy is a pertinent issue in our country. This show looks at the literacy of Grahamstown youth and the role that student print media play in combating illiteracy and fostering a culture of reading and writing.
Thursday
10am: Posters
Looking at the use of posters around university campuses, this show discusses how posters can raise awareness, cause controversy or act as an extension of student news in general.
1pm: Language
How important is language in student newspapers? This show analyses the importance of language policies in linguistically diverse areas such as university campuses, and the politics of multilingual student print publications.
Friday
10am: Finances
Rhodes is uniquely the only university in the country that houses two independent student newspapers, but with such a small student population, funding is a constant battle that must be fought. This show looks at financial issues and opportunities that are present within Rhodes student print media.
1pm: Digital
Ending off the series, this show looks at the rapidly advancing field of digital journalism and its effects on student print media. Can the two work together or will digital journalism take over from print? Tune in to find out.
Last Modified: Tue, 26 Nov 2013 09:16:36 SAST