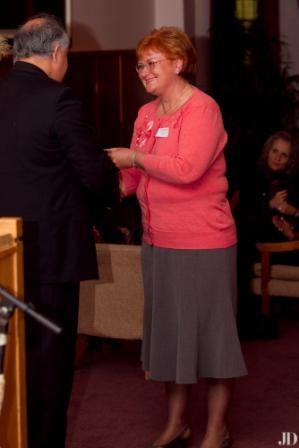 This week Rhodes hosted its annual Alty and Vice-Chancellor's Awards evening to recognise the achievement and further growth and development of its staff members.
Thomas Alty, an ex-Vice-Chancellor of the University, has given his name to awards made to a member of staff who is awarded a Masters or PhD degree (or equivalent qualification) while in the service of the University.
The Vice-Chancellor's Award is made to a staff member who is awarded a bachelor or Honours degree or a recognised professional qualification, and Matric or NQF level 1 (grade 9) qualification. In addition, academic staff who have completed the Assessors Course, run by the Centre for Higher Education Research Teaching and Learning (CHERTL), received their certificates during the ceremony.
In the introduction to the ceremony, Vice-Chancellor Dr Saleem Badat described the Awards as a "special and inspiring event", reminding the gathered staff members and their families that Rhodes University strives to recognise all staff achievement and, further, strives to remove the barriers which exist to further growth and development. To this end, and to appreciative murmurs, he also thanked the families, friends and colleagues of those receiving awards for their ongoing support.
In an affirmation of Rhodes' continual development policy, 52% of University staff have PhDs as opposed to 32% of academic staff countrywide. A caveat exists, however; women, according to Dr Badat, are still under-represented at Rhodes, making up only 40% of the staff complement. The fact that the lion's share of the awards made on Tuesday went to women represents, therefore, a move in the right direction.
Five PhD degrees were recognised with Alty Awards: Dr Barry Irwin from Computer Studies; Dr Sally Hunt from the Department of English Language and Linguistics; Dr Caroline Khene from Information Systems; Dr Andrew Pinchuk from the Department of Mathematics and Dr Pamela Maseko from the School of Languages.
Among the Masters recipients, a notable awardee was Dr James Gambiza, receiving his second Masters degree. A large number of VC's awards were made, with Grounds and Gardens and Residential Operations staff very well represented.
A total of 24 academic staff members received their Assessors Awards, five with distinction. This is an increase from last year, when twenty certificates were awarded.
The Assessors course gives lecturers a grounding in the theories and principles which underpin the discipline of teaching and learning, allowing them to approach the formation of assessment tasks with confidence.
In an accurate and extremely funny dialogue, Fleur de Cap winner and Drama Lecturer Andrew Buckland presented a dialogue to the audience where he (in the guise of one student and two assessors) cleverly covered all the aspects and issues raised in the Assessors Course, and brought the complexity of assessment in a performance related discipline to the fore. Prof Buckland was among the 24 staff members receiving their Assessors Awards.
Story by Jeannie McKeowin
Photo by Judith Doubell
Full list click here
Source:
Please help us to raise funds so that we can give all our students a chance to access online teaching and learning. Covid-19 has disrupted our students' education. Don't let the digital divide put their future at risk. Visit www.ru.ac.za/rucoronavirusgateway to donate