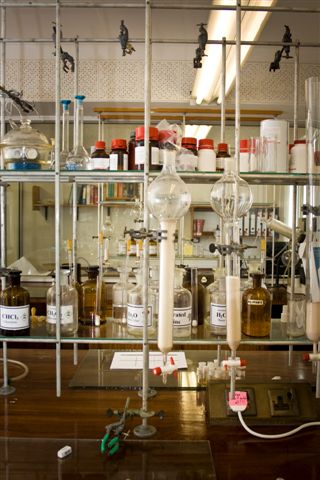 A Rhodes research study in marine natural products has revealed the presence of compounds in seaweed that kill cancer cells.
Michael Knott's study in the Faculty of Pharmacy is among several collaborative research initiatives between the Natural Products and Medicinal Chemistry (NAPROMED) Research Group and the Biomedical Biotechnology Research Unity (BioBRU) at Rhodes University.
Knott's ongoing research has recently seen provincial and national media coverage. The pharmacist and doctoral candidate is involved in research with important implications for the advancement of scientific study in the fight against cancer. Knott will be presenting his research at the 7th European Conference on Natural Products in Sweden later this year.
Dr Denzil Beukes, a senior lecturer in Pharmacy whose research areas include natural products and medicinal chemistry expressed excitement at the various research initiatives within the department. Dr Beukes highlighted that Knott's research was only one of several collaborative projects between the NAPROMED and BioBRU.
According to Dr Beukes, the compounds central to Knott's discovery were isolated from a rather scarce seaweed growing on the west coast of South Africa and were evaluated by BioBRU for their ability to inhibit the growth of breast cancer cells.
Dr Beukes explained, however, the importance of understanding that although they have discovered several exciting compounds that kill cancer cells in the lab "this doesn't mean it is a cure for cancer or that it is close to being developed as a drug."
A major stumbling block in studying these compounds is the small quantities isolated from their natural source which necessitates the development of synthetic methods for larger scale production.
The joint work between Dr Beukes from NAPROMED and BioBRU has been ongoing over a three-year period.
NAPROMED drives the discovery of new compounds with medicinal potential while BioBRU tests these in various assays and also tries to develop a basic understanding of the mechanism of action of selected compounds.
"There's a real vibe in the department; from undergrad right up to postgrad and staff level" said a visibly proud Dr Beukes. He emphasised his belief in allowing students to dream big as well as in keeping their work thorough and grounded.
The NAPROMED Research Group comprises five Pharmacy academic staff and eight postgraduate students with an interest in the field of natural products and medicinal chemistry.
Listed among the group's collaborators are the BioBRU's Dr Adrienne Edkins and Professor Greg Blatch, Professor Gary Watkins of the Chemistry Department and Dr Denver Hendricks and Professor John Bolton from the University of Cape Town.
Story by Zukiswa Kota
Picture by Sophie Smith
Source:
Please help us to raise funds so that we can give all our students a chance to access online teaching and learning. Covid-19 has disrupted our students' education. Don't let the digital divide put their future at risk. Visit www.ru.ac.za/rucoronavirusgateway to donate