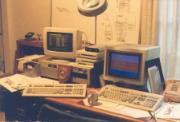 Rhodes University geeks remember how it all began IN NOVEMBER 1991 an information packet winged its way through cyberspace from Rhodes University in the Eastern Cape to Portland, Oregon in the US.
The internet in Africa was officially born.
Twenty years later and most people take for granted the swift, lithesome creature that the internet has become – instantaneous communication via e-mail, instant messaging, and Voice over Internet Protocol at our fingertips. And, of course, the invaluable worldwide web with its wealth of information, discussion forums, blogs, social networking and online shopping sites.
But the pioneers of South Africa's internet, mostly based at Rhodes University, say its birth was not easy. In fact, the delivery was prolonged, painful and messy.
But the university's self-confessed geeks, most now retired, say they loved every minute of it.
Celebrating 20 years of the internet in South Africa, the likes of Professor Pat Terry, Mike Lawrie, better known as South Africa's Mr Internet, François Jacot-guillarmod and Alan Barrett this week reminisced about computers with no horsepower, frequent crashes and hangs and, sometimes, absolute panic at early internet failures.
At the time, in 1988, Rhodes had become the gateway or the mail exchange for e-mail communications between universities in South Africa, says Lawrie. He believes Rhodes became the internet gateway because of its mainframe computer, which could handle a variety of network protocols, and its excellent computer and IT staff who did not know the word "can't".
Jacot-guillarmod says the system was made up of a series of complex connections between the Rhodes mainframe, a 386 desktop PC with no horsepower, and a dial-up link to the network, Fidonet, in the US.
Central to it all was a Portland, Oregon software geek Randy Bush, who was vital to linking them up with Fidonet.
Bush describes himself as an anti-apartheid "pinko" and he helped kick-start South Africa's flight out of the cyber-wilderness. When the system crashed, someone from Grahamstown would phone Bush's wife, Joan, and ask her to re-boot Bush's computer to get South Africa back online.
Bush said he was happy to help at a time when most of the world was still shunning apartheid South Africa, because cutting off communication is not the way to change.
"It was a form of political action and it was a privilege to be able to effect change in this way."
Lawrie said the Rhodes link was used as a means of getting stories of police atrocities out to the world.
Jacot-guillarmod says he looks back at the hardships with nostalgia.
As commercial internet access took off, dedicated lines kicked in, satellites became central and the hub was shifted to Johannesburg. But there are many who will not forget that Africa's internet was born at Rhodes University.
By Adrienne Carlisle
Source: Daily Dispatch
Source:
Please help us to raise funds so that we can give all our students a chance to access online teaching and learning. Covid-19 has disrupted our students' education. Don't let the digital divide put their future at risk. Visit www.ru.ac.za/rucoronavirusgateway to donate