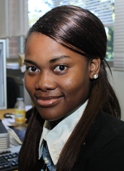 The idea to produce a story about young girls who are abducted, raped and forced into marriage in the Lusikisiki area of the Eastern Cape has been brewing within Lindile Mpanza since her Rhodes University student days.
Years later, armed with the reputation and resources that working for a prestigious current affairs show like 3rd Degree afforded her, she took on a story that she says she will never forget.
"It was a tear-jerker for me, on many levels," she confesses.
"I could relate and sympathise with the girls because I am a young black woman, and some issues are universal, but on the flipside, I struggled to believe what they were saying – not because they weren't telling the truth, but simply because growing up for me was pleasant.
"More than anything, spending time with the girls highlighted the miserable fate of the girl child in many areas, and that we as a society have failed them."
Mpanza says that she was in no danger during the two months it took to cover the story, but she did find that working with a community whose men did not want to be criticised for their cultural practices was a struggle.
Even though she didn't share their views at all, she says that she approached them with humility, respect and open-mindedness.
"My words often were: 'I'm here in your village, I don't know about the practice of ukuthwala, but I know a great deal of what has been said about it and your community, and you are not happy about it. I want to know what makes you angry when outsiders criticise your tradition, so let's set the record straight'."
Winning best TV feature at the CNN African Journalist of the Year Awards is a remarkable achievement for the 25- year-old producer, who says that it has given her the drive "to pursue harder stories", but beyond that Mpanza hopes that her story will elicit some kind of change within the societies she has documented.
"It was disheartening to hear from the police that the conviction rate for perpetrators is very low because they simply disappear.
"I hope that this story will change that, and ensure that the innocents in our communities are not silenced," Mpanza says.
"We are also a country that prides itself at being at the forefront of human rights, and practises like ukuthwala are a violation of these rights," she says.
"It is so important to tell these kind of stories as we build democratic traditions in South Africa."
By Natalie Bosman
Credit Citizen
Picture: CNN.COM
Source: Citizen
Please help us to raise funds so that we can give all our students a chance to access online teaching and learning. Covid-19 has disrupted our students' education. Don't let the digital divide put their future at risk. Visit www.ru.ac.za/rucoronavirusgateway to donate