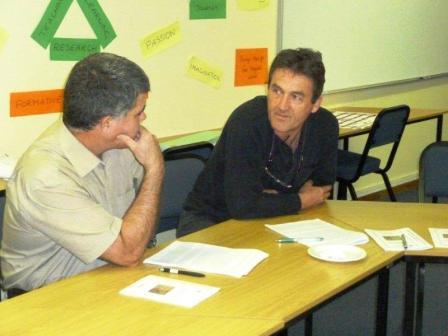 It is an idiosyncrasy of higher education that many reach the status of lecturer without ever taking a formal course in teaching and learning.
In today's world there is growing national and international understanding of the central role assessment plays in higher education, and how assessment decisions by lecturers have a significant impact on the future options and careers of students.
The Assessors' Course, offered by the Centre for Higher Education, Research, Teaching and Learning (CHERTL), is a module of the PostGraduate Diploma in Higher Education (PGDHE) programme. Its purpose is "to support the development and enhancement of understanding and engagement in the assessment of student learning in the Higher Education context."
At present, all new members of the University's permanent academic staff are required to show that they have met the outcomes of the Rhodes Assessors' Course during the three years of their probation.
The course is currently facilitated by Dr Sue Southwood, who moved to CHERTL in 2009, continuing her long involvement with the Education Faculty. Initially skeptical of being involved with a course which is regarded as compulsory for new lecturers, her engagement over the past two years has convinced her of its value and the concept of assessment has become something that she feels passionately about as a vital and integral aspect in supporting processes of teaching and learning.
Dr Southwood is also very passionate about the special space offered by engaging on such courses: "It is a very exciting space. Philosophers and physicists, musicians and mathematicians, actors and artists among others, come together in one space, share insights and develop understandings in a dynamic and constructive way".
One of the notable features of the course is the creative synergy which develops between academics from across the disciplinary spectrum and across ranges of experience and expertise.
The Assessors' course curriculum is not static. The course is designed to frame a space of reflexive engagement, where input from both CHERTL staff members and course participants' results in a programme that is open to change and growth.
Participants are encouraged to share their ideas, practices and course documentation in supporting engagement in robust discussions around assessment practices and how these are supporting students in achieving course objectives. The course is "very participatory in nature, encouraging the involvement of participants in the co-construction of knowledge" [Assessors' Course leaflet: 2011].
While many academics attend the course to support meeting conditions of their probation, many others who do not have to fulfill such conditions choose to come on the course for other reasons. Such participants include Deans of Faculty and Heads of Departments who are interested not just in terms of their own practice but in terms of understanding and connecting with the practice of their colleagues.
One such academic is Head of the Drama Department, Professor Andrew Buckland, who took the course during the first semester of 2011. He notes his discipline is notoriously difficult to assess objectively, and says warmly that Dr Southwood and CHERTL offered him a great deal of support. He explains that as a result of the course he now involves his students much more in the process of assessment, discussing the intended outcomes and assessment criteria from the very beginning. In this way, assessment becomes a more open and integral part of the learning experience not only commenting on it, but informing it too. Such practice is typical of an approach to teaching and learning which recognises the process as a fundamentally dynamic one. A process based on a partnership in which both the lecturers and the learners take active roles in the project of higher education.
Among those who have passed the course, it has been said that experience on the course has added a new layer of understanding to their teaching practice. Even very experienced lecturers who have come on the course have noted that they find themselves thinking about their teaching in new and exciting ways.
The course is in its 10th year now and will be formally reviewed next year as part of an ongoing process of evaluation and development.
The Assessors' Course takes place twice a year. If you are interested in knowing more about it, please contact Sue Southwood: s.southwood@ru.ac.za
Story by Jeannie Mckeowin
Source:
Please help us to raise funds so that we can give all our students a chance to access online teaching and learning. Covid-19 has disrupted our students' education. Don't let the digital divide put their future at risk. Visit www.ru.ac.za/rucoronavirusgateway to donate