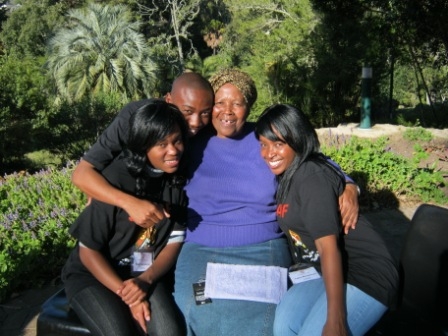 Pharmacy students attending the South African Pharmacy Students Federation (SAPSF) conference made use of the unexpected sunny weather last week to treat pensioners to tea at the Botanical Gardens.
As part of the community engagement initiatives organised through the conference, which was held from 12 to 16 July, the students spent the afternoon with senior citizens from Ethembeni Home and Age in Action.
At the same time, another group of around 20 students were spending time with pre-schoolers at the Home of Joy, playing ball-games and singing songs. As conference hosts, the Rhodes Pharmacy faculty organised transport for the seniors to Ornee Cottage at Bots, where they enjoyed a cup of tea and a slice of cake on the patio.
As a simple but much appreciated gesture, the boisterous students, proudly donning their black conference t-shirts, were most eager to entertain the "grannies and grandpas" and take them for a walk through the gardens.
Nokhaya Mafani from Ethembeni Centre, wearing a bright blue t-shirt marking the International Day of the Aged, said she particularly enjoyed walking in the sunshine and "watching the youngsters getting up to mischief".
After their walk, the pensioners returned to the cottage, where most of the students broke into song and were quickly joined in dance by a few of the more sprightly seniors. Ethembeni Centre manager, Grace Ngcete looked on and smiled. "It is good to see them enjoying themselves," she said. "So many of these people are raising their grandchildren all by themselves- and that's not by choice. They pay for school fees, food, uniforms, all from their pension money.
"At the centre we serve them breakfast and lunch every day, yet so often they keep half to take home with them, for somebody else." Ethembeni acts as a day care centre for over 50 senior citizens and Grace says they are in desperate need of social workers, who are either overworked or not available at all.
"It's very interesting listening to the old people, to hear about what they have been through," Ngcete muses. Meanwhile, the students handed out packets of toiletries and stationery to the seniors - all donated by the students themselves. "It's very important that the older people help the young ones understand, especially with drug abuse, teenage pregnancy and forced marriages. They say to me: we were also young but we didn't have the same opportunities that young people have today."
Story and photo by Anna-Karien Otto
Source:
Please help us to raise funds so that we can give all our students a chance to access online teaching and learning. Covid-19 has disrupted our students' education. Don't let the digital divide put their future at risk. Visit www.ru.ac.za/rucoronavirusgateway to donate