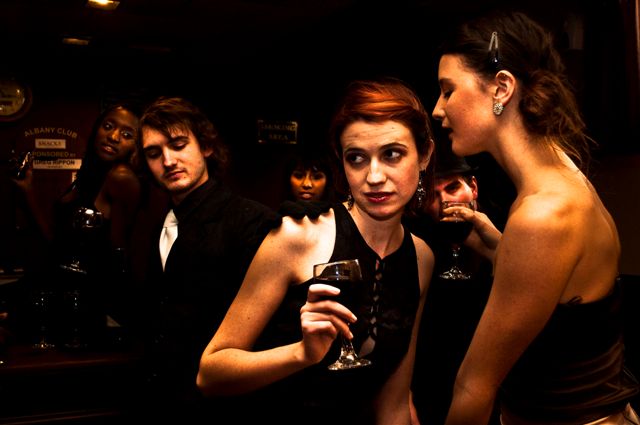 A staggering eight of the 11 Standard Bank Ovation award winners of this year's National Arts Festival are Rhodes alumni.
Announced at the 1820 Settlers Monument, the productions were chosen as award recipients by a panel headed by acclaimed theatre journalist Adrienne Sichel.
The Matchbox Theatre Collective received a Gold award for the contemporary dance piece The Anatomy of Weather. It is choreographed and performed by Rhodes alumni Bailey Snyman and Nicola Haskins, who were both resident performers for the First Physical Theatre Company. Arts writer Robyn Sassen described it as telling "a jagged tale of love, lust and unrequited passion that can be beautiful as it can be uncomfortable to watch".
The poetic and layered work was choreographed in consultation with well known choreographer PJ Sabbagha who is doing groundbreaking work tackling issues surrounding HIV/Aids. The Anatomy of Weather was performed by Haskins and Bailey along with Penny Ho Hin (also a Rhodes alumna) and Thami Majela. The company received one of only two Gold Ovations, with Chris Chameleon being the other recipient.
The talented Haskins also received an Ovation for the physical theatre piece As Night Falls, based on the life of the outsider artist Helen Martins. Among a number of Festival productions, As Night Falls was chosen to be performed at the Amsterdam Fringe Festival in September this year.
In the theatre category, accomplished physical comedians James Cairns and Taryn Bennet received a Silver Ovation Award for their moving play set during the Second World War, Sie Weiss Alles. Cairns and Bennet were the only two actors in this simple, moving play, portraying two lovers desperate to escape their situation, and seeking solace in performing a scene from Hamlet.
Rob van Vuuren, also a First Physical protégée, has been dominating the new South African comedy scene. He received a Silver Ovation award for his comedy, Rob van Vuuren- Live! Another comedy, Deeply Fried also received an Ovation. Directed by Daniel Buckland and featuring Daniel Friedman, the title is a play on Friedman's surname. Nothing was sacred as the popular comedy featured some comic songs and took a dig at Die Antwoord, Facebook and much more.
The intriguing physical theatre piece Loss and Having received an Ovation as well. Directed by Rhodes alumna Brink Scholtz, it featured two pieces- Drama PhD student Sonja Smit's "How to explain soccer to a dead dog" and Rhodes alumna Nicola Elliot's "Proximity of Loss and Having." Elliot's piece was commissioned by the FNB Dance Umbrella 2011 and was performed at Spier Contemporary this year. This haunting, critical and humorous work poses questions about performance in the context of 2010 Soccer World Cup and the broader context of South African society.
A collaboration between painter and performer Jori Snell of Baba Yaga Theatre, based in Denmark, and Ubom! Eastern Cape Drama Company resulted in Door! receiving an Ovation award. Adapted from a parable by Franz Kafka, the drama employed ingenious ways to create light and shadow moving across the stage, culminating in an allegorically comic tale.
For the first time this year, Masters in Contemporary Performance students performed their work at Festival as part of the practical component of the course. But to receive an Ovation award was rather unexpected. InTranceit is a trio of site specific contemporary performance pieces which sold out at most showings this year. Gavin Krastin's sub- Jen Schneeberger's Antigone and Nadine Joseph's dis.clo.sure all challenged the audience and broke new ground.
In addition, Krastin received an Encore Award for his work as a promising new choreographer. "He demonstrated adventurous conceptualisation, choreography, research and design in the creation of his installation work; which positions him as an artist of great potential," said Fringe Manager Zikhona Nweba.
Richard Antrobus also received an Encore Award for his skills as a comic actor. Known for his prowess for mime and stilt-walking, Antrobus starred in the darkly comic play entitled Beelzebub, directed by Brink Scholtz and produced by Ubom! The National Arts Festival Fringe office commended him "for his evolving artistic skills, creativity and flair for developmental theatre with his ability to bridge cultural and aesthetic gaps".
All of these Ovation winners will be invited to submit a proposal to perform on the 2012 Arena Festival.
Story by Anna-Karien Otto
Source:
Please help us to raise funds so that we can give all our students a chance to access online teaching and learning. Covid-19 has disrupted our students' education. Don't let the digital divide put their future at risk. Visit www.ru.ac.za/rucoronavirusgateway to donate