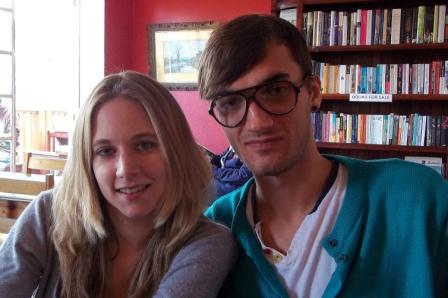 Rhodes University third year Law students Lara von Wildenrath and Armand Swart won the second annual Child Law Moot Court held at the Pretoria High Court recently.
The pair had three days to prepare full written memorials for the competition proper, which served as a basis for their oral court submissions. With such a short turnaround time, the level of stress was, said the pair, authentically comparable to that experienced by lawyers preparing for a genuine case.
With the support and encouragement of their Law of Life Partnerships lecturer, Ms Tammy Coutts, five Rhodes Law students drew up Heads of Argument, which Swart describes as being essentially a roadmap or outline of their reasoning, and presented these to a panel of senior law students, who selected Von Wildenrath and Swart to represent Rhodes University in Pretoria.
The case they were contesting was that of a homosexual man trying to prevent the mother of his long-estranged daughter from leaving to live in a country where homosexuality was criminalised and homosexuals prohibited from entering.
Von Wildenrath and Swart found themselves arguing on behalf of the father, although they had prepared an argument from the other point of view in case they were called on to represent the mother.
They knocked out the University of the North West in the first round, and went head to head with TUKS in the final, beating them by a slim margin.
The moot court competition which allows Law students to take part in simulated court proceedings, gaining experience in a real-life setting, was initiated by the Centre for Child Law and the University of Pretoria.
Dr Anne Skelton, the Director of the Centre for Child Law, is hoping the annual event will draw more lawyers to practice in the field of child law.
Dr Skelton often acts as a curator for children in court cases, a role which has been created to ensure that children's best interests are protected, and also to ensure that their right to participate meaningfully in court proceedings is promoted.
Swart and Von Wildenrath described the experience of working alongside Dr Skelton for a day as "amazing", and are full of praise for the new Childrens Act, which Swart describes as "transparent, effective and revolutionary".
Von Wildenrath is studying Law and Economics and Swart Law and English.
By Jeannie McKeown
Source:
Please help us to raise funds so that we can give all our students a chance to access online teaching and learning. Covid-19 has disrupted our students' education. Don't let the digital divide put their future at risk. Visit www.ru.ac.za/rucoronavirusgateway to donate