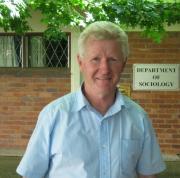 A visiting scholar, Prof Patrick Gunnigle of Kemmy Business School at the University Of Limerick, Ireland discussed the possible outcomes of his country's response to the global financial crisis (GFC).
In a talk entitled: "Weathering the storm? Multi-national companies (MNCs), Human Resources Management (HRM) and industrial relations through the global financial crisis" he focussed on recent, large scale evidence. His findings will be published in International Journal of Manpower in 2012.
MNCs are strong global contenders, replacing countries as the top global entities - 76 of the 150 top economic entities in the world are MNCs. "MNCs have been labelled as everybody's favourite monster," says Prof Gunnigle, quoting an Economist article on the topic. "But they are the driving force of globalisation. The truth is, the way the global economy is structured, once you open up trade in a comparatively free market, MNCs will take advantage."
A significant number of MNCs have invested in Ireland, as, since the late 1950s. Ireland has been a product of a long-standing industrialisation by invitation policy. In 2006, stock of American FDI reached E52.5 billion, more than the BRIC countries combined.
Since 2007, there has been a global collapse in the level of FDI, resulting in "a shift from the old order to developing countries" with emerging countries holding up better than the more established ones. In Ireland, unemployment rose from 4.6% to 14.7% and emigration (from 2007-2010) has increased dramatically. This embraces both Irish workers leaving the country to find work and emigrants returning to their countries of origin or finding employment in other countries.
In terms of staffing, Prof Gunnigle has noticed a rise in what is called job churning, where MNCs are concurrently creating and shedding jobs. This is caused by MNC subsidiaries competing for enhanced mandates; moving up the value chain with no compulsion to re-train. There is limited preference for part time and temporary work while training and development expenditure has fallen.
In general the role of HR has always been "a conundrum between emphasising the 'human' or the 'resources' aspect of human resources," says Prof Gunnigle. "It seems to me that the GFC has put that kind of equivocation to bed. There is certainly slimming down of HR function and HR jobs, happening concurrently with the increased use of HR software and call centres."
With only seven universities in Ireland, there has been a marked effect on the varsities. Budget cuts of between 15-20% have resulted in some contract workers being let go, as well as other temporary grades. Approximately 15 000 people are expected to leave the public sector in the near future, encouraged in part by an attractive retirement package based on pre-cut salaries. "In the public sector, the cuts have occurred across all levels," he says. "Large numbers are leaving but not being replaced so the people who are left behind must pick up the slack."
Nevertheless, he believes that the jury is still out on how Ireland will recover, despite being arguably the country hardest hit by the GFC. Exports have also performed very strongly through the GFC and "MNCs in Ireland have weathered the crisis reasonably well," he concluded.
Photo and story by Anna-Karien Otto
Source:
Please help us to raise funds so that we can give all our students a chance to access online teaching and learning. Covid-19 has disrupted our students' education. Don't let the digital divide put their future at risk. Visit www.ru.ac.za/rucoronavirusgateway to donate