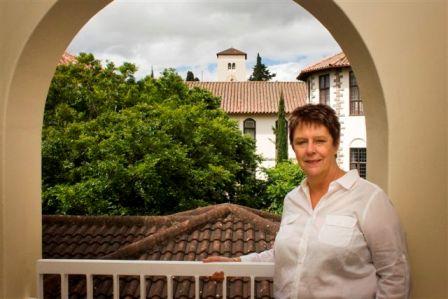 The Centre for Higher Education Research, Teaching and Learning (CHERTL) at Rhodes University this year launched a new course, the first of its kind in South Africa, specifically designed for people currently working in higher education institutions in the field of educational or academic staff development.
The aim of this Postgraduate Diploma in Higher Education (PGDHE) offered at honours level is to enhance the knowledge and competencies of staff in Teaching and Learning units/centres at universities all over South Africa whose role it is to offer professional development for academic staff as educators in higher education institutions.
The purpose of this Postgraduate Diploma in Higher Education is to advance educational developers' knowledge of higher education as a field of study and to enable them to conceptualise, design and implement formal and informal educational development and academic staff development initiatives appropriate to their specific contexts.
According to course co-ordinator, Dr Jo-Anne Vorster, "Due to the current low pass rate of the increasingly diverse South African higher education student body it has become crucial to ensure greater success for more students. To achieve this, professional development of academic staff is a priority for the sector".
The course runs over two years with the participants attending week long block contact sessions on Rhodes campus three or four times a year.
To date participants come from a range of institutions including the NMMU, Zululand, Venda, Walter Sisulu and Rhodes.
As CHERTL head of department, Dr Lynn Quinn, explained, "Over the last decade or so CHERTL staff members at Rhodes have developed considerable knowledge and expertise in the field of educational and particularly academic staff development.
"We felt that the best way for us to share this experience was to offer a course for educational developers which would enable them to offer appropriate staff development opportunities for academic staff in their institutions."
In addition to expertise in CHERTL, Rhodes more broadly has much to offer the participants. In the first module of the course Rhodes Vice-Chancellor, Dr Saleem Badat, presented a session on the higher education context in which he outlined ways in which the broader context of globalisation and neo-liberalism has impacted on the dynamics for institutional change in South Africa.
Rhodes University's Deputy Vice Chancellor Academic & Student Affairs, Dr Sizwe Mabizela, also currently Chair of the Umalusi Board, shared with the group the standardisation process for the national senior certificate.
The second module of the course focused on ways in which education developers can contribute to their institution's developing sound and effective teaching and learning agendas.
Prof Chrissie Boughey, Dean of Teaching and Learning at Rhodes, shared her considerable experience on this topic with the group. In addition, extended studies lecturers, Judith Reynolds and Karen Ellery spoke to the group about their experiences of designing foundation programmes and learning experiences for students who have not had the benefit of sound schooling but who have the potential to succeed in higher education.
Feedback from participants indicates that the course is meeting its objective of impacting on the work of educational developers through enhancing their theoretical knowledge of the field as well as their practical ability to transform teaching and learning at their respective institutions. One of the participants said that the course was "both informative and stimulating" and that "each (participant) is feeding what we learn back into major (read 'large and needy') institutions."
Story by Jeannie McKeowin
Picture (by Sophie Smith): Prof Chrissie Boughey, Dean of Teaching and Learning at Rhodes
Source:
Please help us to raise funds so that we can give all our students a chance to access online teaching and learning. Covid-19 has disrupted our students' education. Don't let the digital divide put their future at risk. Visit www.ru.ac.za/rucoronavirusgateway to donate