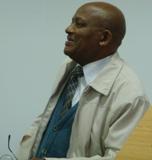 Visiting professor, Digby Koyana delivered a lecture in the Law Faculty on the Constitutionality of the Transkei Penal Code (TPC) and argued that even though the continued application of the Code is not problematic, there is no reason for it to remain in practice.
Prof Koyana said the TPC could be repealed tomorrow and he could not be bothered because it has veered towards the South African law and there is no point in keeping the two separate.
The Transkei Penal Code came into being in 1886 at a time when the Transkei territories were being administered by the Cape colonial government. He explained that customary criminal law in the Transkei region was highly influential.
He said some magistrates in the area had begun to consult authorities on indigenous law and apply the system in their judgments, while others continued to utilise the Roman-Dutch criminal law. This resulted in a lack of uniformity and an uncertainty that the colonial government saw fit to remedy.
The newly legislated Code was widely applied and became very influential in South African criminal law. Though the Transkei Penal Code incorporated elements of indigenous law, it was largely a product of the English legal system, having been drawn up by British lawyers.
Prof Koyana argued that years of use and later revisions of the legislation served only to increase the similarities between the TPC and South African criminal law as the two systems impacted on one another.
Prof Koyana explained that questions concerning the continued application of the Code surfaced shortly after the 1994 democratic transition. He said the former national Director of Public Prosecutions, Mr Bulelani Ngcuka, sent a letter to authorities in the Transkei and said the TPC should no longer be applied because South Africa had become one country. He argued that the South African common law needed to be applied uniformly across the national territory.
It was not possible to simply cease using the Code, however, the rule in South Africa is that all law remains in practice unless repealed by an act of Parliament. Prof Koyana said that some attempts to repeal the Code have been made by different legal entities in the past.
The legislature has thus far made no repeal and the revised 1983 Code remains still today. The result is that any person charged between the Kei River and Natal border will be charged and tried under the TPC.
"The South African criminal law and Transkei criminal law have virtually become the same and the Transkei Penal Code is as much a document of Western law as is the Roman-Dutch law," he said.
"The question of constitutionality must be looked at very circumspectly. I am very strongly against the rules of one legal system being declared unconstitutional to align them with the rules of another legal system, but when it comes to the TPC – please, go ahead; it will make no difference," Prof Koyana continued.
By Kyla Hazell
Photo by Gustav Muller
Source:
Please help us to raise funds so that we can give all our students a chance to access online teaching and learning. Covid-19 has disrupted our students' education. Don't let the digital divide put their future at risk. Visit www.ru.ac.za/rucoronavirusgateway to donate