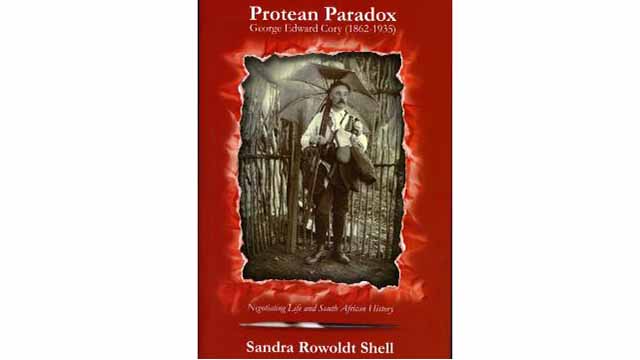 By Thandi Bombi
Former Head of the Cory Library, Dr Sandra Shell, launched her book titled Protean Paradox, an exploration of the life of chemist and historian King George Edward Cory.
"I had come to know a fair amount about Cory in the Library, but when I began my research it didn't take long to discover how multidimensional, complex and frequently paradoxical this man was. My purpose in this study was to explore Cory's life in its entirety rather than to deliver a full historiographic critique of his work alone," explained Shell
While there is a chapter in her book devoted to an examination of his historiographical writing, the intriguing reality of his life is not so much how well or how bad he recorded his version of South Africa's past but that he could write at all.
Shell presented a detailed and an intriguing timeline of Cory's life, reading extracts and using visuals from the book to give the audience an idea of what the book holds.
Dr Peter Clayton, Deputy Vice-Chancellor, gave contextual remarks about the project and the work being done to advance research at Rhodes University. "It is profound that we are launching a book by the former Cory librarian, about Cory but also in Cory and that is highly significant because this is a legacy of the man that is being written about," he said.
He added that the timing of this book was fantastic as Professor Paul Maylam just launched a book to record the history of Rhodes University in a legitimate and scholarly way.
Prof Maylam, speaking at the launch of Dr Shell's book said, "There is an ambivalence clearly surrounding the life and work of Cory, on the one hand there is a remarkable life story and on the other hand there is a historical writing which is problematic,".
He explained that while there are lessons in Cory's life for both students and academics today, including that he was a curious and resilient student, a polymath, and a field worker collecting oral evidence for his work, there is this paradox because he was a colonial, Eurocentric settler historian and his writings are largely dismissed by historians.
"It is easy to say that Cory was a man of his time and I have never been happy with that. Anyone can exonerate just about any historical figure but one does not have to be a person of his time, there are people who stand up against their time," he said and concluded by congratulating Dr Shell for handling this problem with sensitivity.
Source: Communications
Please help us to raise funds so that we can give all our students a chance to access online teaching and learning. Covid-19 has disrupted our students' education. Don't let the digital divide put their future at risk. Visit www.ru.ac.za/rucoronavirusgateway to donate