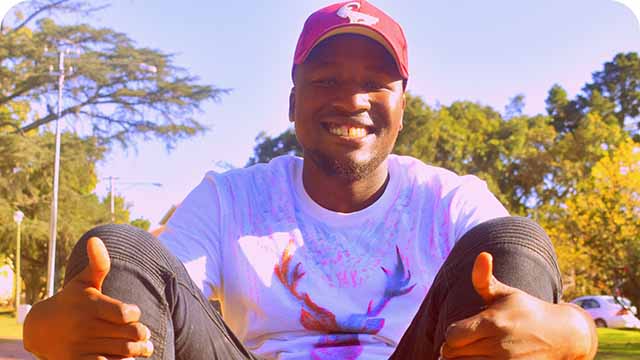 Several months ago, Luthando "Trompie" Dayimani, a second year Bachelor of Education student, bumped into eight young and displaced youth while walking back to his flat in High street. As it is the norm for street children, they were begging him for money and food.
Instead of taking care of that immediate need, he got them involved in a maths quiz, which they mastered. Impressed by their knowledge, he invited them to his house to learn more about them and figure out a way to get them back to school.
"While at my apartment I left them downstairs conversing, one of the boys told me that someone was trying to break in through my bathroom window. The perpetrator, turned out to be an older brother of one of the boys," he recalls.
Dayimani began what would be a daily conversation between him and these young boys, encouraging them to choose and want a different life from the streets. The conversation gave birth to a developmental project, 'Kreative Nation ZA', to mentor local underprivileged boys.
"I am committed to engaging with, uplifting, and learning from the group, whose members range from the age of 12 to 27. My first mission is to get them back in school. The bigger picture is to defend the dreams and aspirations of uneducated and unemployed youth of Grahamstown," he says.
"He adds that although Grahamstown has homes and orphanages for social displaced youth, the wider Grahamstown community is not doing enough to protect and empower the youth of this town.
As part of his fundraising initiatives, Dayimani produces homemade merchandise such graffiti T-shirts and sells them to students. One of the teenagers, Siya, an ex-convict, creates a popular brand of sneaker figurines out of eggshells.
Dayimani and his children also regularly clean up the streets of Grahamstown and collect recyclable litter for their arts activities. They also opened a small business to wash sneakers at an affordable price.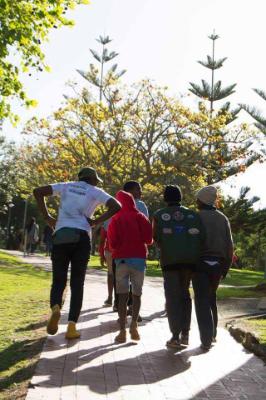 "I might leave Grahamstown in a few years, so I want [the members] to take ownership of what we have started. It's about finding inventive ways to keep them busy and maybe make some money on the side."
Kreative Nation ZA is in the process of developing a curriculum as part of informal knowledge sharing about life, sport and travelling within the province to expose them to different ways of living. He has approached organisations and businesses to genuinely invest in the project and its curriculum in the future.
Inspired by the university's approach to community engagement, Dayimani is seeking to form business partnerships that are not charity based, but rather to invest in tangible skills.
"Come and show up. Money will not turn these boys into men. We must teach them valuable life lessons, outside the traditional academic curriculum, through activities such as art and going to the beach," says Dayimani.
Dayimani's drive comes from a personal place as he also comes from humble beginnings. Raised by his grandmother near the Shaw Park farming community in Port Alfred, they shared a four-roomed house with his twelve siblings. They had no electricity and had an outside toilet.
His grandmother's care and dedication, his community, local business sponsors made it possible for him to attend Kingswood College and currently Rhodes University.
"I am the loving grandson of Lulama Dayimani; an amazing chef, babysitter, dog walker, window cleaner and car washer. To the simple-minded individual, she is just a Domestic Worker," he describes the woman who carried him into the doors of higher learning.
Watching her struggling to provide for her grandchildren beyond the basics, Dayimani wrote a letter to his community requesting support to further his education. A local businessman sponsored his tuition and accommodation, with some help, to study at Kingswood College.
"I love my life the way it is now, knowing that there is more to life than cutting someone's grass or picking pineapples for 365 days of the year. My community gave me this opportunity and they would not let me end up like the rest of boys in my community," he says.
Dayimani puts a lot of value in the simple things that being at Kingswood allowed him to experience, small pleasures foreign to black children in poverty-stricken communities.
"I enjoyed long walks on the beach, playing with dogs and skipping stones, camping trips, I experienced snow for the first time, and I now have access to a computer daily. That has been the turning point of my life".
He also represented Kingswood in hockey, his 'first love' rugby, tennis, basketball, and water polo.
His transition from Kingswood to Rhodes was not automatic. He had a lot of catching up to do academically when he enrolled at Kingswood, meaning his marks were not outstanding when he matriculated. He spent two years after high school working as a bartender, waiter, iceman, garden boy, and worked at a hardware store.
"All my bosses taught me a life lesson and something about 'Ubuntu', compelling me to extend the same favour to my two respective communities, Port Alfred and here in Grahamstown."
The hardworking young man eventually qualified to be a Rhodes student. Funza Lushaka Bursary funds him for his studies, accommodation and other needs. He has managed to rally a group of friends and Rhodes students to work with him, especially to assist with the moral degeneration of boys that grow up to be perpetrators of violence against women.
"You are a father or a brother to someone. We are under high supervision because we are the trash women claim we are, there is no use putting up individual defences to a collective problem that will grow if unsupervised," he lamented.
Dayimani views himself as a protector, a teacher of the meaning of respect and has a duty to pass on the valuable lessons taught by his grandmother to boys who do not have the privilege.
Source: Communications
Please help us to raise funds so that we can give all our students a chance to access online teaching and learning. Covid-19 has disrupted our students' education. Don't let the digital divide put their future at risk. Visit www.ru.ac.za/rucoronavirusgateway to donate