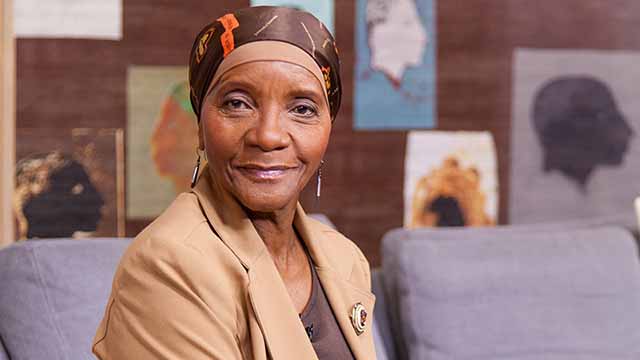 One of this year's celebrated Rhodes Honorary Doctorate recipients is author, poet, and activist, Dr Sindiwe Magona, who will be bestowed with a Doctor of Letters (DLitt).
Born in Gungululu in the Transkei and raised in Gugulethu in Cape Town, Dr Magona's life story is a compelling and inspirational account of a woman who defied and refined odds to become all things possible.
Dr Magona (75) worked her way up from being a domestic worker to a teaching qualification that saw her teach seven subjects to a primary school class of 60 children. A woman of versatile interests, Magona went on to earn her BA undergraduate degree by correspondence from UNISA.
She later won a scholarship to study Masters in Social Work at Columbia University in the United States. In 1994, she presented United Nation's radio programmes about the UN's role in ending Apartheid. She was promoted to the UN's Public Information Department where she worked for 20 years until her retirement in 2003.
Since her return, Dr Magona has produced nine books made up of autobiographical work, over 120 children's books, 40 are available in all eleven official languages, short stories, novellas and poetry that has been anthologised.
Most of her books have been turned into theatrical plays and performed in multiple stages, including the annual National Arts Festival and the Rwanda Festival.
As a language ambassador, she continues to lecture and deliver key addresses at universities and conferences, both locally and internationally. Known as a brave writer that breaks many taboos, Magona continues to initiate writers' conferences, lead women's rights advocacy groups and write children's educational books.
With her inspiration and encouragement, she formed the Gugulethu Writers' Group, which nurtures new writers. The group has published a collection of short stories and won First Prize in the Maskew Miller Longman Story Competition.
"I write out of a sense of commitment and love for this nation," she says.
Former president, Jacob Zuma honoured her with the Order of Ikhamanga in Bronze for her outstanding achievements in literature, playwriting and humanitarian contribution to social change and freedom.
In 2009, she was shortlisted for the Commonwealth Writer's Prize and was awarded the Molteno Gold Medal for Lifetime Achievement for her role in promoting isiXhosa. The Department of Arts and Culture gave her the Literary Lifetime Achievement Award and dubbed her a Living Legend. The Xhosa Forum honoured her with a Heroes Award and the uNdimande Grand Prize.
The University of the Western Cape's CMDR/UWC Creates hosts the "Sindiwe Magona Literary Prize", inaugurated in 2014. Recently she received the English Academy of Southern Africa gold medal, the academy's highest award for distinguished service to English over a lifetime.
Dr Magona is the official biographer of Archbishop Njongonkulu Ndungane and is currently working on abridged versions of multi-lingual books on struggle stalwarts, Walter and Albertina Sisulu. She is a Writer-in-Residence at the University of the Western Cape, following a Residency at Georgia State University in Atlanta.
Most fittingly, Dr Magona is the ambassador of Nal' iBali, an organisation seeking to ensure that a well-established culture of reading can be a real game-changer for education in South Africa.
Today she is one of many internationally prominent South African writers whose work is informed by her experience of impoverishment, femininity, resistance to subjugation and being a domestic worker.
Source: Communications
Please help us to raise funds so that we can give all our students a chance to access online teaching and learning. Covid-19 has disrupted our students' education. Don't let the digital divide put their future at risk. Visit www.ru.ac.za/rucoronavirusgateway to donate