Rhodes > Music > Music Events
Feya Faku Quintet
Date:
14 September 2016 19:30 - 14 September 2016 20:45

Location:
Beethoven Room, Department of Music&Musicology, Rhodes University
Organiser: Denétha Peters (Phone 046 603 8490)
Event Type: Music Concerts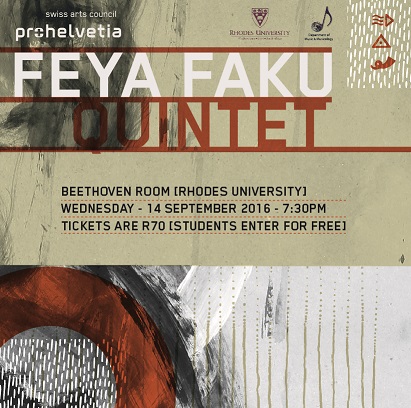 Feya Faku is well known to the South African audience. Feya has marked the South African scene from the 1990s. A true master of his trade he sets the standard for musicianship, exceling on all levels. His most recent album Le Ngoma recorded with this line-up in Switzerland in 2013 is a celebration of South African music and is driven by the energy of joy and desperation coping with the challenges life throws. Once more an album with healing power.
Domenic Landolf, Swiss tenor player, has a long lasting relationship with South Africa that started with a tour of the band Mats-Up in 2005, followed by the Swiss South African Jazz Quintet in 2007. He has been involved with numerous South African artists visiting Switzerland among them Marcus Wyatt. His trio CD New Brighton, obviously, is a tribute to his cooperation with Feya Faku.
Jean-Paul Brodbeck has proved his stylistic versatility in diverse formations. He was one of the principal founders of the experimental hip-hop group Chapter 12 and has been collaborating on and off with the tenor player Andy Scherrer, who has considerably contributed to his musical development. From 2007 through 2010, Brodbeck was a member of the quartet headed by renowned Austrian guitar player Wolfgang Muthspiel. These days he works with Johannes Enders's quartet, featuring the drum legend Billy Hart. Brodbeck often performs in trio, works as a sideman in different formations, and teaches in the Jazz Department at the Conservatory of Music in Lucerne, Switzerland. As formation leader he released eight albums.
Fabian Gisler was marked by some of South Africa's jazz legends when as a child he explored his mother's record collection. Ever since his first collaboration with Mac McKenzie in 2005 he has enjoyed collaboration with various musicians from the country such as Feya Faku and Marcus Wyatt. In recent years Gisler has been most involved with the radical and successful Rusconi Trio which on the basis of a solid musical friendship has been stretching the limits of jazz in all directions.
Dominic Egli's recent album Fufu Tryout recorded in 2013 with Feya Faku is a tribute to his friendship and collaboration with artists from the continent who have marked his musicianship and compositions. Egli has been involved with a great number of South African artists from Feya Faku to Mac McKenzie since his tour in the country with the band Mats-Up in 2005.
Save to Google Calendar