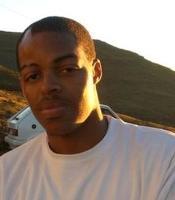 Mr Leroy Maisiri presented his paper entitled After Zuma: A Workers' Party for South Africa on 4 May 2016 as part of the Labour Studies Seminar Series, which is run by Neil Aggett Labour Studies Unit (NALSU) and the Departments of Sociology, History, and Economics and Economic History.
Leroy Maisiri, who is a PhD candidate at Rhodes University, hails from Zimbabwe. He has written articles for papers like Khanya and Zabalaza, and helped organise the 2014 and 2015 annual postgraduate conferences at Rhodes. He has researched deindustrialisation in Bulawayo, and the politics of the independent left in South Africa. His current degree focuses on the "people's power" movement in 1980s South Africa.
Mr Maisiri asked whether South Africa needs a socialist, "workers' party" to move forward, as political scandals, massive inequality and growing struggles sweep the country? The African National Congress (ANC) retains an absolute majority, but faces growing challenges. The Congress of SA Trade Unions (COSATU) has split, the 340,000-strong, Marxist, National Union of Metalworkers of SA setting up a "movement towards socialism" and a rival federation. Major strike victories in mining and post, dramatic struggles at the universities, township-based rebellions, a looming split in the SA Communist Party (SACP), the Economic Freedom Fighters' (EFF's) stunning 2014 results, and the growth of the United Front are signs of the potential for massive change. But where to next? Mr Maisiri examined the arguments on the independent left for and against the founding of a new "workers' party." Engaging local Marxists, anarchists / syndicalists and radical trade unionists, it uncovers a rich set of intellectual traditions, and asked questions such as: Can a party unite different sectors that are in struggle? Or is a united front the answer? And if socialism needs to be put back on the agenda, how can it be achieved?
Source: After Zuma: A Workers' Party for South Africa
Please help us to raise funds so that we can give all our students a chance to access online teaching and learning. Covid-19 has disrupted our students' education. Don't let the digital divide put their future at risk. Visit www.ru.ac.za/rucoronavirusgateway to donate