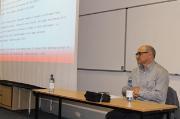 Prof Fred Hendricks presented his paper entitled What Would You Do with R1.8 trillion? The Private Affairs of the Public Investment Corporation on 6 April 2016 as part of the Labour Studies Seminar Series, which is run by Neil Aggett Labour Studies Unit (NALSU) and the Departments of Sociology, History, and Economics and Economic History.
Prof Hendricks is a former Dean of Humanities at Rhodes University, and a Professor Emeritus. He recently edited Undoing a Century Of Dispossession in South Africa (with Lungisile Ntsebeza and Kirk Helliker), was part of the UNRISD research team on Social Policy in Late Industrializers: Sub-Saharan Africa and the Challenge of Social Policy, where he looked at Botswana, South Africa and Zimbabwe, and gave the Archie Mafeje Memorial Lecture at UNISA just prior to the seminar. He is currently an Associate Director of the African Humanities Programme, a National Mentor for the National Institute for the Humanities and Social Sciences, a Board Member of Afesis-Corplan and Trustee for the Trust for Community Outreach and Education. He is also editor of the Journal of Contemporary African Studies and former editor of the African Sociological Review.
In the presentation, Prof Hendricks outlines how, towards the end of its rule, the apartheid government in South Africa converted its contributory pension system for employees in the public sector from one that effectively functioned as a pay-as-you-go (PAYG) scheme to a fully-funded scheme. This apparently small change saddled the state with a massive national debt which was inherited by the incoming 1994 government, profoundly shaping its ability to address the economic and social legacy of apartheid and colonialism. The move effectively tied up billions of rands in a scheme to safeguard the pensions and packages of apartheid-era public servants. Meanwhile, the Public Investment Corporation (PIC), which manages the Government Employees Pension Fund, has accumulated vast amounts of capital. The PIC owns, for example, 30% of Lonmin, the company where the Marikana Massacre took place. Prof Hendricks provides a brief historical account of the PIC from its inception in 1911 to its current status as a juggernaut in the SA economy. He questioned the corporatisation of the PIC in the context of the enormous development challenges facing South Africa, and considers the inadequacy of the social policy responses of the democratic government.
‌‌
Source: What would you do with 1.8 trillion? The Private Affairs of the Public Investment Corporation
Please help us to raise funds so that we can give all our students a chance to access online teaching and learning. Covid-19 has disrupted our students' education. Don't let the digital divide put their future at risk. Visit www.ru.ac.za/rucoronavirusgateway to donate