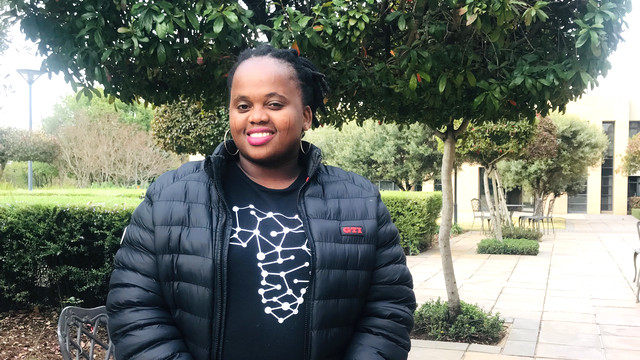 Rhodes University Senior Lecturer in Pharmacy, Dr Nosiphiwe Ngqwala, has been selected as one of six South African finalists for TechWomen 2019.
Launched in 2011, TechWomen is an initiative of the United States Department of State's Bureau of Educational and Cultural Affairs (ECA) and is managed by the Institute of International Education (IIE).
TechWomen aims to empower, connect and support the next generation of women leaders in science, technology, engineering and mathematics (STEM) from Africa, Central and South Asia, and the Middle East, by bringing them together with their professional counterparts in the United States for a mentorship and exchange programme.
During the five-week programme from 28 September to 3 November 2019, participants will engage in project-based mentorships at leading companies in Silicon Valley, San Francisco Bay Area, through professional development workshops and networking events, and travel to Washington for targeted meetings and special events to conclude the programme.
To be selected, women needed to demonstrate themselves as emerging leaders in their chosen professional track through work experience, volunteer experience, community activities, and education.
"I have been working for less than four years and during this time I have, through my teaching, research, and postgraduate supervision, managed to acheive Senior lectureship. I have been actively involved in community engagement in Makhanda and beyond, through South African Young Academy of Science (SAYAS) and African Academy of Sciences and Academy of Science of South Africa (ASSAF)," Dr Ngqwala explained.
The programme also looks for women who are committed to returning to their home countries to share what they have learned and mentor women and girls.
"I have a mentoring group of women that comprises of 22 women from first-year through to PhD level and I am also part of Allan Gray Mentors," said Dr Ngqwala.
Finalists also needed to have a demonstrated track record of entrepreneurialism and commitment to innovation.
"I am a mentor for the National Youth Development Agency (NYDA) and I have been actively involved in social entrepreneurship through my participation as a faculty advisor for Enactus Rhodes University and Hult Prize Rhodes University," she said.
Dr Ngqwala plans to use this opportunity to advance her career as she currently on sabbatical.
Over the past eight years, more than 600 women from Algeria, Cameroon, Egypt, Jordan, Kazakhstan, Kyrgyzstan, Kenya, Lebanon, Libya, Morocco, Nigeria, Pakistan, the Palestinian Territories, Rwanda, Sierra Leone, South Africa, Tajikistan, Turkmenistan, Tunisia, Uzbekistan, Yemen and Zimbabwe have participated in TechWomen.
Fore more information: https://www.techwomen.org