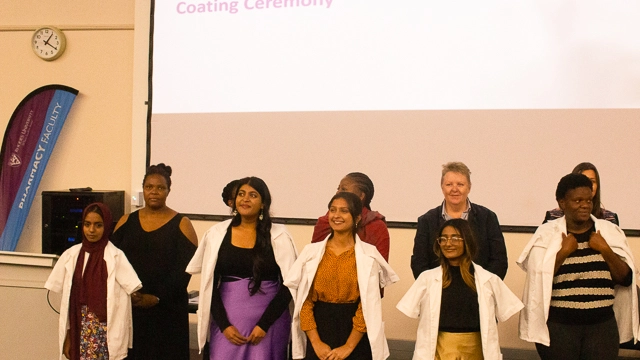 By Nwabisa Moyo
The Rhodes University Pharmacy Department hosted its annual White Coat ceremony to officially welcome new students into the professional world of pharmacy.
The ceremony was conducted by pharmacists within the department and from around Makhanda in support of the incoming pharmacists. The ceremony began with the welcoming of students by Professor Sandile Khamanga, the Dean of the Faculty of Pharmacy, who encouraged the students. "You have made the right decision by joining the Faculty, and we wish to see all of you going to the next level," he said.
The welcoming was followed by an awards ceremony, which saw the honouring of department students who excelled. The Avylen Bowen Award for the student with the highest mark in Anatomy, Physiology, Pathophysiology, and Pathology was given to Nomfundo Mhlongo. Lorah Dzimwasha received the Kiernon Chambers Memorial Bursary, awarded to third-year pharmacy students who are citizens of Zimbabwe and is based on academic merit and broad participation. The Clicks Prize for Pharmacy Practice was awarded to Chantel Chirairo. Lastly, the South African Academy of Pharmaceutical Sciences Medals for Academic Excellence were awarded to Firdou Hoosen for first year, Deborah Akintola for second year, and Samarah Zvandasara for third year.
Within the ceremony, the students were cloaked in their white coats of commitment. As stated by Prof Khamanga, "The white coat represents something."
Its representation of something significant comes with an extensive history worth telling. The coat was first introduced to the world of pharmacy in the late 19th century, as it was preceded by a beige coat, which scientists only wore within the laboratories where they worked. Physicians took up the practice of wearing the coat, but they wore black ones to reflect their work, which was filled with sorrows, and to respect the dead bodies they often encountered. The white coat was introduced as an attempt to gain people's trust, symbolising professionalism, compassion, and commitment.
Pharmacy students stood together and pledged to acknowledge and act upon ethical practice, to fulfil the demands of their profession, and to strive to promote the positive contribution the profession can make to patient care amongst their peers in and outside the University. Deputy Dean of Pharmacy, Dr Carmen Oltmann, concluded the ceremony with the short and powerful message: "You are now responsible and accountable."