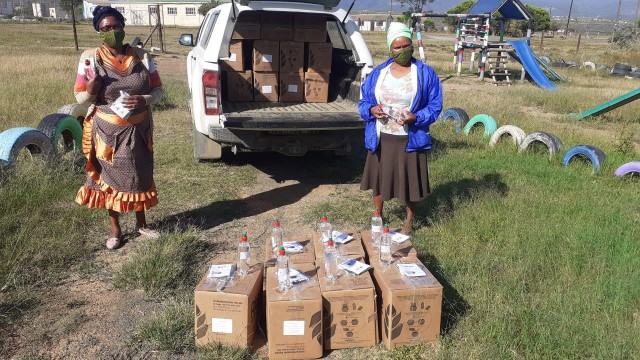 Ubunye Foundation join forces with the University in the fight against Covid-19
Rhodes University Professor of Pharmaceutics, Rod Walker, and his team of Pharmacists have been assisting Eastern Cape rural development trust, the Ubunye Foundation, to produce sanitiser from the raw materials the Foundation sourced.
This forms part of a larger strategy for Rhodes University to support organisations who have access to rural and marginalised communities, during the Covid-19 pandemic. A successful two-day training programme recently completed for the Department of Rural Development and Agrarian Reform yielded a 1000 L stock of sanitiser for the farming community in the province.
Stutterheim has, as a result, become the first rural town in the Eastern Cape to have capacity to manufacture sanitiser.
Founded in 2002, Ubunye works with marginalised communities within the Makana municipality across several key areas, including livelihood and health and wellness. As part of these efforts, the Ubunye Foundation has developed and is implementing a Covid-19 Response Programme. "We are using a community-led approach, which means we have developed the response programme around the needs identified by our communities," explained Ubunye Foundation's Director, Dr Katy Pepper.
One of these needs, says Dr Pepper, relates to the availability and distribution of sanitiser. This is where Prof Walker and his team of Pharmacists come in.
"We had sourced raw materials for the manufacturing of sanitiser, and approached Rhodes University to help us with technical expertise," said Dr Pepper.
According to Prof Walker, although the sanitiser is a relatively simple product to make, it is critical to ensure the proper amounts are used, or else the sanitiser will not be effective. "We have set up a documented manufacturing procedure we follow, and there are checks at every step that ensures the product is made the same way each time we produce it," he explained.
The Ubunye Foundation has a long-standing relationship with Rhodes University's Community Engagement Division, who had earlier assisted the Foundation to acquire material for masks.
"Ubunye focuses on collaboration with other agencies and we have relied on the key support of our local partners at Rhodes University to help make this response programme a success," explained Dr Pepper.
Once satisfactorily manufactured according to the World Health Organisation guidelines, the sanitiser was ready to be distributed by the Ubunye Foundation to the communities they support.