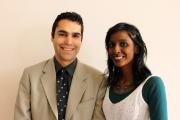 Verashni Pillay, born 11 February 1984 in Pretoria, South Africa, is the deputy editor online of the Mail & Guardian, the region's premier quality publication for investigative journalism and political coverage. She graduated with a first class honours degree in journalism from Rhodes
University in 2007, and went on to work as an online journalist at the country's largest website, News24, for 2.5 years.

She was recruited by the Mail & Guardian and began working as an online journalist in October 2009. Within a month she was promoted to Managing Editor Online, and as of November 2010 is the Deputy Editor for the website. She is currently tasked with over-seeing and commissioning all
editorial content online, coordinating and managing the 13-member online editorial team, spearheading convergence with the newspaper, setting up social media platforms and running special projects.

Verashni also writes a widely-read weekly column on current affairs, and regularly appears on radio and TV to comment on current affairs and social media.
Past Articles
Gwede, steady, gone: South Africa's failed communists
Miss SA and the truth about sex
So much for more hugs from the Democratic Alliance
A not-so-biblical view of Israel
Women take a beating online
In defence of Mogoeng


Last Modified: Tue, 30 Oct 2012 12:55:20 SAST