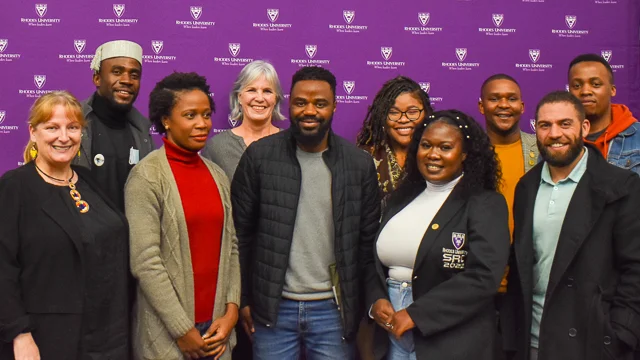 By Lwando Ntenda and Nothando Calane
In collaboration with the Centre of Postgraduate Studies (CPGS) at Rhodes University, the International Office recently hosted a postgraduate panel discussion titled, "Choices, benefits and lessons learnt from educational migration".
The panel comprised of Rhodes University postgraduates: Mary Chibwe from Zambia; Eric John (E-Jay) from Namibia; Andrew Andile Ali from Nigeria; Edward Domboka from Zimbabwe; and Vuyelwa Moyo from Zimbabwe. Asiphe Mxalisa, a PhD scholar from CPGS, acted as chair.
Why choose Rhodes University?
The panellists shared several reasons for choosing to study at Rhodes University. The research-rich environment was a key drawcard. Moyo indicated, "I didn't choose Rhodes University; Rhodes University chose me." Moyo was drawn to the specialised Ethnomusicology courses offered at the University.
Ali said the best Professor in his former university had studied at Rhodes University, and so the reputation of water research at Rhodes University clinched his choice. Furthermore, the small town where the University resides was an important feature to some because it felt more inclusive than a large city.
The benefits of an internationally diverse student body
Domboka said, "The presence of international students on Rhodes University campus brings opportunities for new research projects."
Mxalisa concurred, "There are many benefits for South African students to study at an institution with an internationally diverse student body. The global nature of our society and the complexities of current research problems means that having staff and students from around the world benefits the whole university community."
Ali added, "Iron sharpens iron – we need to work together to tackle the complex research issues before us. And the whole university benefits if the student body better reflects that global village."
The panel suggested that more international student recruitment was needed, and Chibwe proposed that Rhodes University better use its global alumni network to act as ambassadors for the University. She also highlighted opportunities for participating in online studies and study programme collaborations between universities that Rhodes University could benefit from.
John urged other international students to take up some of the opportunities he had embraced – such as tutoring and engaging in community engagement activities.
Challenges to choosing South Africa
Chibwe highlighted the constraints on South Africa's ability to implement its new internationalisation policy framework document, which indicates a strategy for the country to become a hub of higher education on the continent. The poor image of the country due to xenophobia has worked against internationalisation. Domboko asserted that a sense of 'belonging' is crucial to foster full participation in higher education, and if someone feels ostracised, that can be a push factor.
Lengthy visa delays were raised as a further barrier. The panellists lamented the obstacles embedded in such processes. Furthermore, getting visas for family members to stay with postgraduate students, which is a relatively straightforward process in many countries, is very difficult in South Africa. This can lead to extreme loneliness for students who may be married and have young children, which can distract them from their studies.
How Rhodes University can continue to attract international postgraduates
The panel shared some ideas for how Rhodes University can continue to aim for an internationally diverse student body, despite challenges. For example, ensuring that international students are housed in campus residences would assist in attracting students since it would remove a lot of the anxiety that comes from moving to a new country.
Ms Orla Quinlan, Director of Internationalisation at Rhodes University, indicated that internationalisation and recruiting of international students would be integral to the forthcoming review of Rhodes University's Institutional Development Plan. Regarding visas, Ms Quinlan assured the postgraduates that the International Office remains abreast of any changes and can offer advice.
Overall, attendees at the event showed appreciation of the opportunity. A number proposed more such events should be held to raise awareness of the benefits of internationalisation for a research-intensive university such as Rhodes University.