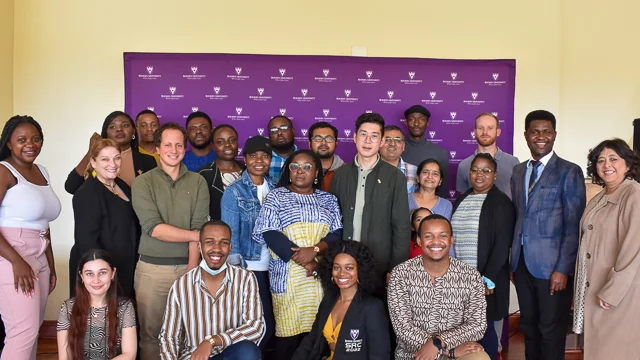 By Lwando Ntenda
Concluding Rhodes University's International Week (23 May-28 May) activities was the Postdoc Story Circles and Brunch Reception at Steve Biko Dining Hall on 28 May 2022. The Postdocs trickled in and began networking just before the official opening by the Director of Internationalisation, Ms Orla Quinlan.
The Director contextualised the Postdoctoral gathering as the concluding event of International Week. The success of the themed week, said Ms Quinlan, was due to collaboration with a wide range of university stakeholders, including undergraduates, postgraduates, the Student Representative Council (SRC), postdoctoral researchers, academics, support staff and community partners. International Week aimed to showcase how Rhodes University's institutional learning environment is inclusive of international, intercultural and global dimensions.
The guests of honour were acknowledged for their very valuable contributions to the university's research output. This was followed by an impromptu welcome speech from the 2022 SRC Vice-President, Tinashe Hlako. "Events such as this are crucial – to get to know people outside of one's own department aids in enriching our collective contribution to research."
The diverse group of attendees hailed from various countries, including Canada, Greece, India, Nigeria, South Africa, Uganda, and Zimbabwe.
Their areas of study and research were also very diverse. Postdocs at the event came from:
Biotechnology Innovation Centre
Environmental Science
Geology
Music/ILAM
Journalism and Media Studies
Fine Arts
Environmental Science
Bioinformatics
Zoology and Entomology
Microbiology
Once the introduction had been made, it did not take long for the room to be abuzz with conversation as connections were created and stories shared. Ms Quinlan took note of the experiences and issues facing some international Postdocs, which included visa issues, orientation and, in some instances, social isolation.
She provided an update on the impact of the changes in South Africa's critical skills lists, from requiring a "job -seekers visa" to needing a "work visa" that now necessitates an employer-employee relationship before it can be granted.
Ms Quinlan committed to ensuring that all Postdocs and postgraduates who arrive at different times of the year could be afforded an orientation of the campus and the town. A group of the postdocs agreed to come to a workshop to help develop orientation materials with the International Office, drawing on their own experiences.
Many Postdocs thoroughly enjoyed the opportunity presented by the and suggested that the International Office host such an event more regularly.