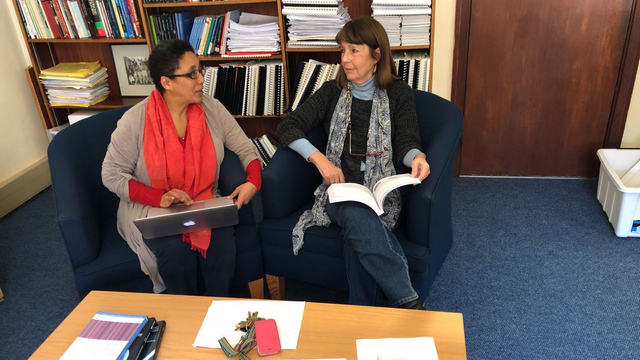 Associate Professors of the Centre for Higher Education Research, Teaching and Learning (CHERTL) at Rhodes University have received one of the 2018 National Teaching Excellence Awards by the Council on Higher Education (CHE) and the Higher Education Learning & Teaching Association of Southern Africa (HELTASA).
The importance and significance of these awards is heightened, given the renewed imperative for transformation in higher education in South Africa.
"The award was made in recognition of Professors Jo-Anne Vorster and Lynn Quinn's work at a national level," said Dr Chrissie Boughey, Deputy Vice-Chancellor of Academic & Student Affairs at Rhodes University. "This truly significant work has brought enormous credit to both CHERTL and the University."
Professors Vorster and Quinn's work has involved developing a specialised version of Rhodes University's fully accredited Postgraduate Diploma in Higher Education programme aimed at people working in Teaching and Learning Centres, which they embarked on in 2011.
"This is the first accredited programme globally that is aimed at inducting academic developers into the field," explained Prof Quinn.
According to Prof Vorster, the programme's success is due to the immense need for it. "Historically, induction into academic development has been haphazard and informal. Due to the changing higher education context, the field has grown exponentially and in many countries now plays a central role in institutions. This has generated increased demand for knowledgeable and competent [academic] developers that are able to contribute towards solving some vexing problems in contemporary higher education. Current recruitment and induction processes of new [academic] developers do not necessarily meet this demand," she stated.
The purpose of this practice-based Diploma is to enable academic developers to identify, plan and execute initiatives in their own contexts aimed at improving teaching and learning in a coherent manner. "Since all participants are practising academic developers, we create a community of practice in which they learn from one another, challenge one another and offer practical solutions," Prof Quinn added.
CHERTL continues to receive excellent feedback on the course from participants, external examiners as well as other role players who provide input into the course. "I think that our working together on the design and facilitation of the course is one of its strengths," explained Prof Vorster. "Our participants have reported benefiting greatly from the range of knowledge, different facilitation styles and modelling of good teaching that we provide though our team teaching."
According to Prof Quinn, it is particularly rewarding when course participants acknowledge they now know what it truly means to be an academic developer, and when they recognise how the course has led them to reconceptualise their practices.
"CHERTL is arguably the premier Teaching and Learning Centre on the African continent, able to rival any in the world," asserted Dr Boughey.
Source: Communications
Please help us to raise funds so that we can give all our students a chance to access online teaching and learning. Covid-19 has disrupted our students' education. Don't let the digital divide put their future at risk. Visit www.ru.ac.za/rucoronavirusgateway to donate