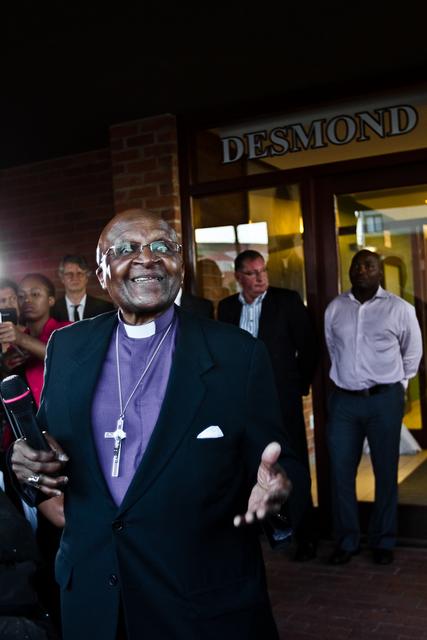 Rhodes > Communications and Advancement > Alumni Relations > Latest News
Archbishop Desmond Tutu and Robert V Taylor (1977)
Date Released:
Thu, 24 May 2012 12:57 +0200
The Los Angeles County Museum of Art (LACMA) had a unique event at the Los Angeles Museum featuring Nobel Peace Prize Laureate and an Honorary Graduate of Rhodes, the Archbishop Desmond Tutu in conversation with Robert V. Taylor, author of the recently released book, 'A New Way to Be Human.'
Robert V. Taylor is a nationally recognized leader, author, speaker and media commentator. Born and raised in South Africa, Robert worked tirelessly to end apartheid. In 1980 his mentor, Archbishop Desmond Tutu sent Robert to the United States to avoid imprisonment for his anti-apartheid activity. He graduated from Rhodes University, South Africa, and completed graduate work at Union Theological Seminary, New York, eventually becoming the highest-ranking openly gay clergy person in the Episcopal Church at the time. His book, 'A New Way to Be Human: 7 Spiritual Pathways to Becoming Fully Alive' (New Page Books, April 2012) offers a path to an integrated life of purpose.
Source: SFGate
Source:Alumni