Launch of new gallery and SARChI Arts Lounge
The new Arts of Africa and Global Souths Arts Lounge and RAW Spot Gallery opened on 13 June 2018 at Rhodes University.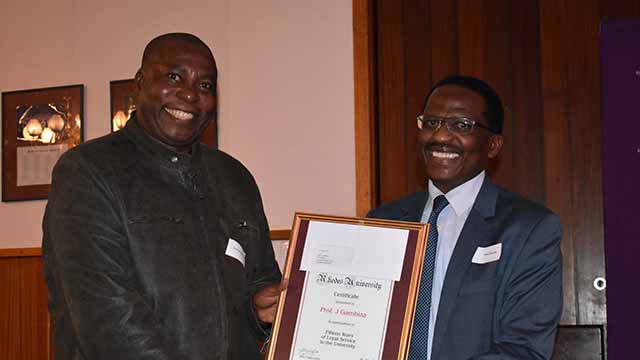 Rhodes University honours long-service staff
Rhodes University academic, administrative, and support staff gathered in the Senior Common Room to celebrate those who have been in service at the University for 15, 25, and 35 years.
Rhodes Business School MBA programme ranked among top 2% worldwide
The Rhodes Business School MBA programme has been given the thumbs up for another three years by the Association of MBA (AMBA), an accreditation service which currently accredits programmes from the top 2% of business schools in over 70 countries.
Rhodes wins second place at International Trade Law Moot in Kenya
Four final year Rhodes University LLB students participated in the All Africa Round of the ELSA Trade Law Moot competition between 24 and 29 April in Nairobi, Kenya.
Engagement in Action Podcast Series