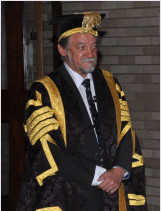 Rhodes > Vice-Chancellor > Tribute to Jakes Gerwel > Latest News
Chancellor: Jakes Gerwel Obituary
Date Released:
Mon, 18 February 2013 11:41 +0200
Jakes Gerwel (1946–2012): Humble intellectual, scholar and leader
Media commentaries and tributes on the passing of Jakes Gerwel were unanimous: South Africa has lost an exceptional humble intellectual, scholar and leader, and "a good and great man" who provided wise counsel to people in leadership positions in the higher education, political, business, sporting and philanthropic worlds.
His death leaves a "big void" in South Africa. Antjie Krog wrote: "South Africa has lost its most broad-minded thinker and its most loyal critic who matters".
Gert Johannes Gerwel was born in 1946 on a sheep farm in Kommadagga, midway between Grahamstown and Somerset East in the Eastern Cape. Primary education at a church farm school was followed by secondary schooling at Dower College in Uitenhage and Paterson High School in Port Elizabeth.
Thereafter, in 1965, Gerwel proceeded to the University of the Western Cape (UWC) and graduated cum laude in Afrikaans-Nederlands and obtained an honours degree in the same discipline.
After lecturing Afrikaans at Hewat Training College in Athlone, he attended the Vrije Universiteit of Brussels and completed a licentiate in Germanic Philology on a Belgian government scholarship.
He graduated from the Vrije Universiteit with a doctorate in Literature and Philosophy for a thesis entitled 'Literatuur and Apartheid'. Joining UWC as an academic, he became a professor in 1980 and Dean of the Arts Faculty in 1982. In 1987 he was appointed Vice-Chancellor.
Written by Dr Saleen Badat, Rhodes University Vice-Chancellor
Click link below for Full Obituary
Source:Rhodes University