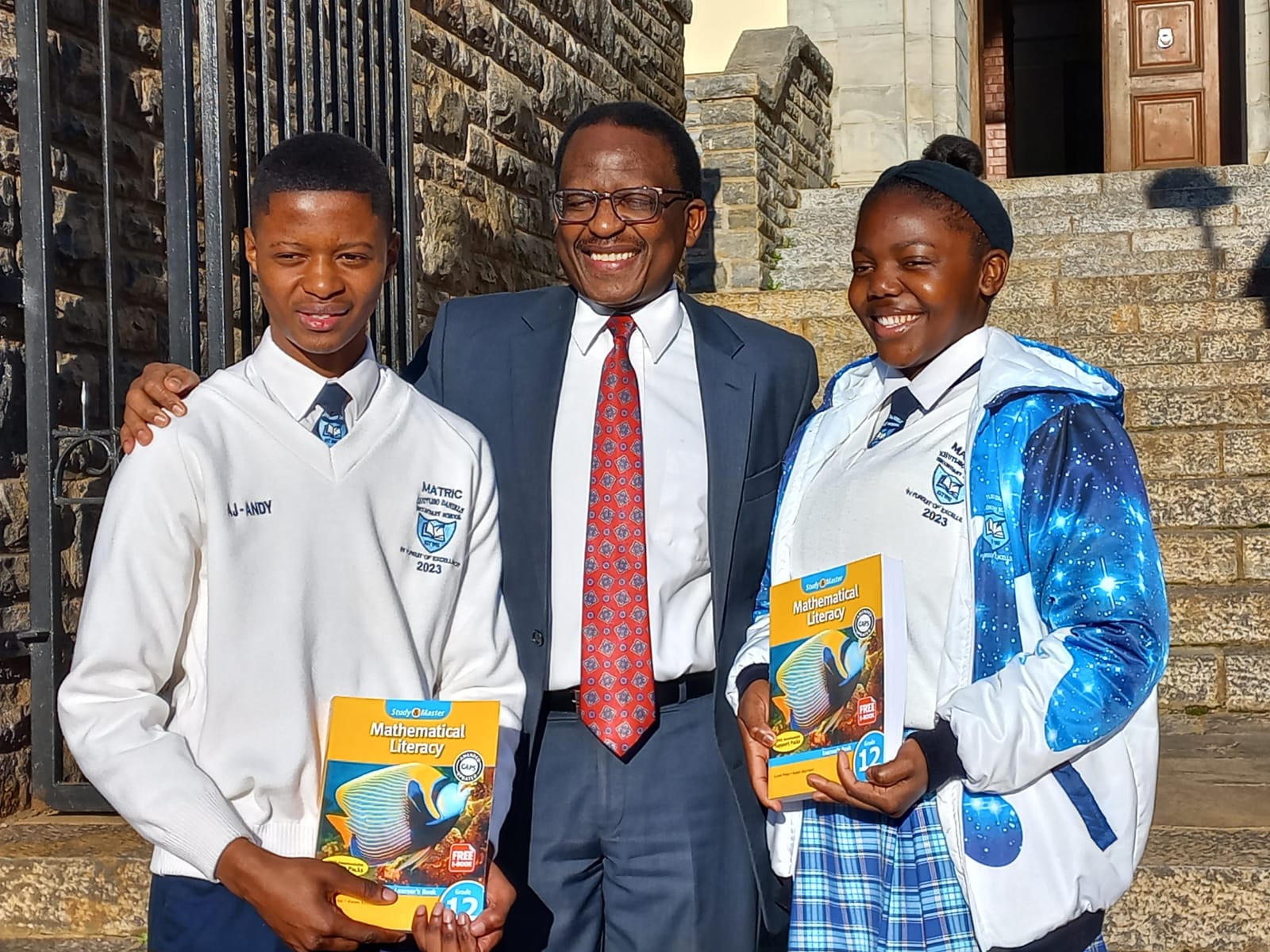 Rhodes University made its contribution to International Mandela Month by donating R70 000 worth of Mathematics textbooks to Matric pupils in three local schools. Vice Chancellor of the university, Prof Sizwe Mabizela is a passionate mathematician himself, and the donations of books went to three Makhanda High Schools. The donation promises to contribute to a sustainable and long-standing schools intervention led by the Vice Chancellor aimed at transforming education in the city.
The handover of the textbooks to Khutliso Daniels, Ntsika and Nombulelo high schools from Monday to Wednesday this week, was an excellent opportunity to bring together some of the VC's Initiative leadership for an hour of celebration. On Monday, Prof Mabizela met with Khutliso Daniels' principal, Mr Radio Mcube and his learners, Khanya Mdoko and Analo Jack. Rhodes University Community Engagement facilitated the handover at Ntsika and Nombulelo on Wednesday.
Rhodes University's plan to focus attention on the Maths textbook donation emerged from a Winter School held during the June school holidays by the RU Statistics Department. Prof Lizanne Raubenheimer started a mathematics winter school for learners in local schools in 2021, and the project has continued and grown since. The Winter School highlighted the lack of mathematics learning materials in our no-fee paying schools.
The donation of textbooks will contribute significantly to the various initiatives taking place across the University and community to address the quality and equality of Mathematics education in our city.
The Education Initiative at Rhodes University follows a pathway aimed at improving educational outcomes in Makhanda at all levels. The initiative uses innovative approaches and partnerships to bring about change. The program covers the full education spectrum, ranging from early childhood development to primary and secondary education, as well as transitioning to tertiary education. By addressing multiple stages of the education journey, the initiative aims to create a holistic approach to improving educational experiences and potential access to tertiary institutions, particularly Rhodes University.
The initiative also emphasises the formation of communities of practice, bringing together educators, administrators, and other stakeholders to collaborate, share knowledge, and implement best practices. This collaborative approach fosters a culture of continuous improvement and professional development within the education sector.
Partnership and collaboration are integral to the initiative's success. Organisations and educational institutions in Makhanda, including GADRA Education are actively involved, making tangible contributions. The network of partnerships has facilitated the exchange of ideas and innovation across the education sector.
The Vice-Chancellor's Education Initiative seeks to optimise community-university partnerships, recognising the potential of this collaboration as an untapped resource in South Africa. These partnerships not only contribute to improving public education within Makhanda but also serve as a valuable area for research and development.
The VCI and other initiatives have achieved considerable progress in the past eight years. Some of the outcomes achieved at a Matric level include the following:
1. The matric pass rate has increased from 62% in 2015 to 85% in 2022.
2. The number of Bachelor passes produced has increased from 179 in 2015 to 305 in 2022.
3. The drop-out rate has dropped from 43% in 2015 to 35% in 2022.
South Africa's first democratic president, Nelson Mandela is famously quoted saying, "Education is the most powerful weapon which you can use to change the world." Mandela Month is celebrated in July each year and people around the world come together to honour the extraordinary life and legacy of Nelson Mandela.
This month holds a special significance as it coincides with Mandela's birthday on July 18th, which is recognized globally as Nelson Mandela International Day. Mandela Month is a call to action, inspiring individuals to make a positive difference in their communities and contribute to building a more just and compassionate society. It encourages people to embody the values of Mandela, such as equality, reconciliation, and service to others.
Throughout the month, various activities and initiatives are organised, including volunteering, community service, charitable donations, and events promoting social causes. Mandela Month serves as a reminder that each person has the power to create positive change, just as Mandela did, and encourages everyone to take action towards a brighter future for all.
If you would like to spend your Mandela Month contribution supporting local schooling initiatives, contact the Rhodes Community Engagement Division!