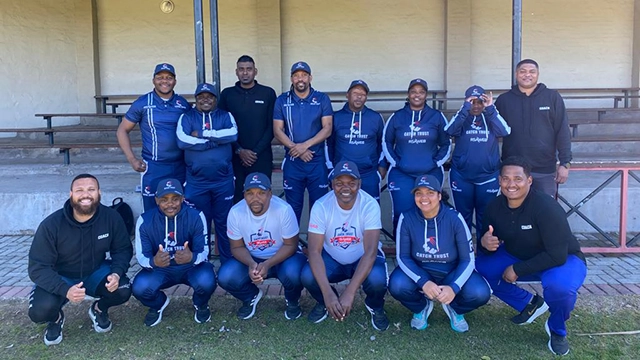 By Cathy Gush
The air of excitement was palpable as close to 100 young learners from St Mary's Primary School gathered on the main cricket field at Kingswood College on Wednesday, 01 August, for their coaching activation with nine cricket coaches from the Gary Kirsten Foundation (GKF), along with four local coaches.
The GKF coaches had travelled up from Khayelitsha in Cape Town for the two days of activation as part of the Foundation's support for the Young Warriors Cricket Development Programme (YWCDP). This programme is currently unique to Makhanda and represents the Kirsten Foundation's first venture into Eastern Cape schools.
The YWCDP is an exciting sports and physical development partnership between Rhodes University (represented by Rhodes University Community Engagement [RUCE] and the Human Kinetics and Ergonomics [HKE] Department), Kingswood College, the Gary Kirsten Foundation, and three local primary schools (Grahamstown Primary, George Dickerson and St Mary's Primary). The project was launched in February 2022, and became fully operational recently with the completion of two sets of cricket nets (one at Grahamstown Primary and one at St Mary's) and the deployment of four coaches from the local community. The cricket nets were largely sponsored by local company GBS Mutual Bank, with further contributions from the RUCE Office. Three coaches are funded by the GFK, while one is an intern at Rhodes University, seconded to both Holy Cross Convent and the YWCDP.
The HKE Department is involved in the project through Prof Candice Christie, who is a member of the Management Committee, and PhD candidate Elrico de Bruyn, who is providing administrative and project management support. Together with other members of staff, and students, the Department also aims to capacitate and support the YWCDP coaches in the schools with regard to physical strengthening and conditioning programmes.
Some 450 primary school learners in Makhanda are currently part of the programme, and the hope is that this number will increase as the project grows and expands. One of the aims of the project is also to identify talented young cricketers and enable them to further their cricketing careers. Over the two days of the recent activation, four different groups of learners from the three schools benefitted from the special interaction with experienced coaches, and the project received a welcome boost.
Learning opportunities abound – for coaches, pupils, teachers, and students, which makes this a project that not only brings sporting opportunities to young boys and girls in our town but also demonstrates the value of partnership and true community engagement.