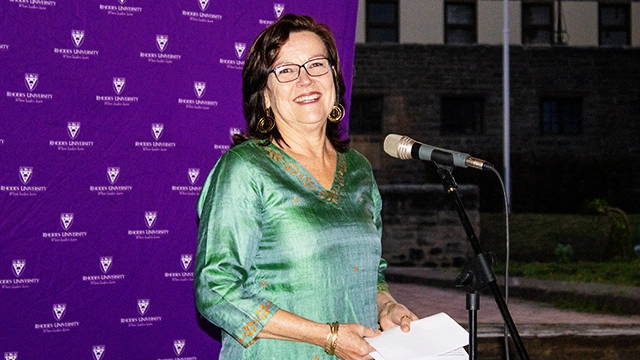 By Unarine Mugogovhali
The Rhodes University Community Engagement (RUCE) Awards is an annual ceremony that honours the outstanding efforts and dedication of individual students, residences, societies and community partner organisations who have made significant contributions to community involvement initiatives. This event not only acknowledges the dedicated work of students, staff, and community partners but also serves as a platform to encourage others to engage meaningfully with local communities.
On 03 October, a vibrant atmosphere unfolded on the lawns before the iconic Rhodes University clocktower building, where a diverse audience comprising students, faculty, community partners, and esteemed guests gathered in eager anticipation.
The ceremony commenced with a warm welcome address by Professor 'Mabokang Monnapula-Mapesela, the Deputy Vice-Chancellor (Academic & Student Affairs) of Rhodes University. In her speech, she emphasised the University's steadfast dedication to community involvement and its pivotal role in effecting positive change in the local community through service learning, engaged research, and engaged citizenry. Professor Monnapula-Mapesela underscored the significance of collaboration between the institution and local organisations, emphasising that this synergy is essential to reviving the city of Makhanda, and to prevent it from fading into obscurity.
Following this address, the Director of RUCE Di Hornby, stepped onto the stage to share notable highlights and provide a comprehensive overview of RUCE's impactful endeavours in 2023. Her address transcended mere testimonials, issuing powerful calls to action, urging everyone in attendance to become catalysts for change.
At the heart of the event, naturally, was the presentation of awards to those who have demonstrated extraordinary dedication to community engagement. These awards were divided into various categories, each recognising a different facet of community involvement excellence:
Community Partner of the Year: This award celebrated the invaluable partnerships that the University had cultivated with local organisations. These partnerships played a pivotal role in executing a wide array of community engagement initiatives, spanning education, healthcare, and environmental conservation. The winner of this category was River Rescue (eco-champions of Makhanda), with CM Vellem Health Promoting Primary School and Ntsika Secondary School as finalists.
Hall/Residence of the Year Award: This accolade recognised residence and halls who had seamlessly integrated community engagement into their culture of social responsibility among students. Nelson Mandela Hall emerged as the winner, with Hugh Masekela Hall and Cullen Bowles Hall as finalists.
Sports Club/Society of the Year Award: The Rhodes University Toastmasters Club emerged as the victor in this category, distinguished for pioneering a youth-focused communication and leadership programme aimed at nurturing essential soft skills among learners, exemplified by the inaugural Rhodes University Toastmasters Public Speaking Competition. Meanwhile, the Rhodes University Mountain Club and Rhodes University Ultimate Frisbee earned well-deserved recognition as finalists in this competitive category.
Gold Award for Excellence in Community Engagement: This award celebrated students who had gone above and beyond, volunteering their time and skills to support local community projects. The top 10 recipients in this category were:
Tiisetso Kwanda Nhlapho
Siyanda Mjoli
Takudzwa Makuwa
Simphiwe Malinga
Quinlan Victor Caiger
Monica Lerato Mathebula
Matimu 'Xihluke' Shivambu
Lilitha Boco
Lihle Manene, and
Grace Naume Ndlovu
Student Volunteer of the Year: The evening's highest honour was presented to an individual deeply committed to community involvement – Chidinma Uchenna Iheanetu. Chidinma is a passionate educationist whose selflessness and enduring impact on local communities served as an example for all.
The Rhodes University Community Engagement Awards Ceremony went beyond honouring outstanding community members; it offered a blueprint for the future. The speeches and awards served as a wellspring of inspiration, reminding everyone of their ability to effect positive change in the world.
As the ceremony concluded, attendees departed with a renewed sense of purpose, recognising that community engagement is not merely a part of their university experience but a lifelong journey. The stories and accomplishments celebrated that evening will continue to motivate students, staff, and community partners to collaborate towards a brighter and more inclusive future for all.
Rhodes University's unwavering commitment to community engagement has once again been reaffirmed, and the far-reaching impact of this commitment will undoubtedly transform lives and communities for years to come.