Here are some helpful contacts to assist you in accessing the support you need:
Students

Academic Admin /
Registrar's Division
046 603 8104
Disability Support Service Contact
046 603 8181/83
studentaffairs@ru.ac.za

Exam Concessions information /
Financial Aid Office

046 603 8248
Library Disability Assistance
046 603 7310
library@ru.ac.za

Staff

Human Resources
046 603 8876
c.peters@ru.ac.za
Disability Committee
The Disability Committee at Rhodes University seeks to ensure that all matters relating to disabilities at the university are handled in a fair, equitable and supportive way, and to raise awareness of the rights of people with disabilities throughout the university. Any complaints about discriminatory treatment of people with disabilities can be brought to the attention of the committee. To do this, please contact Nangamso Myoli at n.myoli@ru.ac.za or 046 603 7515.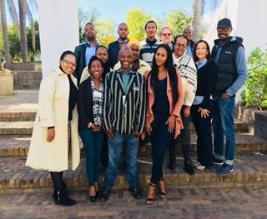 Staff members from RU and other universities at the Eastern Cape Regional Disability Collaboration Workshop 2018.
Enable Society
Enable is a student society providing people with information about disabilities, the lived experiences of other students with disabilities, and a safe space to discuss the issues and challenges that students with disabilities are faced with on a daily basis. To find out more, visit https://enablesoc.co.za or see their Facebook group.
A mural painted by Enable for Rhodes University Disability Week 2018
Community partners
The following organizations in the broader Makhanda (Grahamstown) community offer support to people with disabilities:
Last Modified: Tue, 07 Jan 2020 09:13:44 SAST