See the person, not the disability
Mission: To offer appropriate support services which enable every individual to participate and have a positive student experience.
We assist with:
Assistive technology support
Extra Time requests
Library Services support
Financial Aid support
General student support
Academic support
Personal support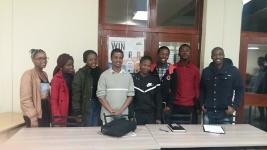 The Division of Student Affairs will make efforts to meet your individual requirements to ensure that your time at Rhodes University is an enjoyable and positive experience. This page is designed to give current and prospective students an understanding of the support available at Rhodes University for students with disabilities.

Which students can we help?
Students with mobility impairments
Students with hearing impairments
Students with sight impairments
Students with learning impairments such as dyslexia
Students diagnosed with disabilities or chronic conditions that might negatively affect their studies such as diabetes and Asperger's Syndrome
Psychiatric and psychological difficulties
What kind of support is available?
Academic Support:
We can liaise with your department, lecturers and tutors for appropriate accommodation and support, including access to teaching venues. We can make study material available in the formats you require (e.g. voice to text conversion, enlarged text). We can provide note-takers or recording devices for lectures. We can liaise with other university departments and divisions, such as Information and Technology Services and Infrastructure, Operations and Finance in order to make suitable arrangements.
Assistive Technology Support:
Rhodes has computers with speech recognition software, reading and writing support software, wide screens, and text magnification technology; we also have Bluetooth devices for hearing aids. Further assistive technology support will be provided by the university as needed, and with due consideration to limited resources and reasonable accommodation of the student.
Exam Support:
Students can apply for extra time in examinations and or the use of a computer in exams. Exam concessions are arranged in line with the the Exam Concessions Policy and as recommended by a committee. In line with the Concessions Policy, any and all examination concessions applications should be supported by appropriate evidence. Applications for exam concessions are available on ROSS.
Financial Support:
The NSFAS Disability Bursary Programme provides financial support to students with disabilities who require financial aid and possess the ability to pass their academic subjects. It is intended to open opportunities in higher education, provide the necessary additional teaching and support for students to overcome learning barriers resulting from
disabilities.
The NSFAS bursary covers full fees i.e. tuition, accommodation and a book allowance. Assistive devices are provided within certain limits.
See the Disability Policies page to access policies relating to the NSFAS Disability Bursary Programme.
Library Support:
We can make special arrangements for extended library loans, access to technological support and training, and the use of computers with specific software solutions. Further to this, there is also a dedicated lift so that users may
have access to the various levels of the Library.
The Rhodes University Main Library has equipment to assist people with a variety of sight- and hearing-related impairments. You can find out more about this equipment here.
Personal Support:
Depending on your needs, the Counselling Centre can provide additional support. We can arrange support in your residence by liaising with wardening staff and Residential Operations to make suitable arrangements about meals and living conditions.
General Support:
The Division of Student Affairs will continuously seek to enhance the learning and living environment and promote students' independent functioning and an inclusive campus environment. We aim to do this by ensuring easy access to other university services like the Health Suite, sports participation and Careers services, keeping students informed of any other relevant information and monitoring and improving the effectiveness of the Rhodes Disability Support Services. We will also assist in cases of unfair discrimination.
What can you do?
Have you declared your disability?
Please do so by disclosing on your application form, or by phoning 046 603 8183 or emailing studentaffairs@ru.ac.za. We can communicate with you regularly, and ensure we provide effective service to you.
Last Modified: Fri, 08 Feb 2019 15:04:33 SAST