We're here to support you!
Human Resources can provide assistance to staff members with impairments to help them perform their duties. For example, they can assist in arranging the following types of support:
Adapting existing equipment or acquiring new equipment including computer hardware and software.
Re-organizing work stations.
Human Resources is responsible for ensuring that all our recruitment and selection processes are equitable and do not discriminate against people with disabilities. They will also liaise with the head of your department / division / institute to ensure acceptance and support and recognition of the unique qualities which you bring to the workplace.
Declare your disability
When staff are employed they must complete the EEA1 form from the Department of Labour. On this form, you have an opportunity to declare that you have a disability. Human Resources will capture this information, allowing them to mobilize resources to support you.
If you need to declare a disability or have any queries about the support that Human Resources can offer you, please contact Cecil Peters at c.peters@ru.ac.za or 046 603 8876.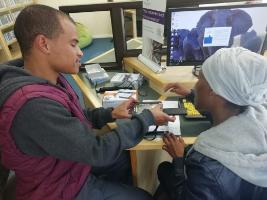 A Rhodes University staff member tries out the equipment available for people with disabilities in the Library.
Last Modified: Tue, 07 Jan 2020 09:14:08 SAST