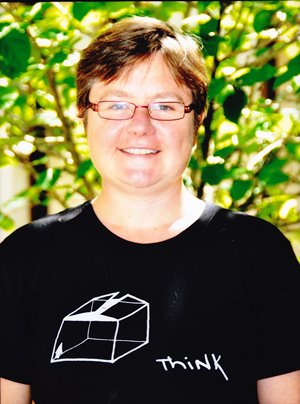 Dr Deborah Seddon awarded British Academy Newton Advanced Fellowship to develop a Digital Archive of South African Orature
Dr Deborah Seddon, a Senior Lecturer in the Rhodes University English Department, has recently secured a two-year Newton Advanced Fellowship, from the British Academy, to work on a project entitled: An Arc to the Future: Preserving and Promoting Orature in the South African Literary Imaginary. The funding will help Deborah work towards the creation of a digital archive of South African oral and performance poetry to be called WordArc. The aim of the online archive is to collect and adequately contextualize the seminal works of South African orature from the colonial to the post-apartheid periods. WordArc is envisioned as a resource which will be accessible to local and international scholars, but also to teachers, community groups, schools, and university students; promoting recognition of orature's importance in South African history and culture; facilitating its preservation and wider dissemination; and influencing curriculum development in South African literary studies.
The award is valued at £74 000 and will run from 31 March 2015 until 31 March 2017. It will entail the ongoing support of Deborah's co-applicant, Dr Andrew van der Vlies, and his colleagues at Queen Mary University of London. The research project aligns Deborah's teaching within the English Department, her weekly community engagement project, the Cycle of Knowledge (which brings together student and local poets), and her current research on South African, African-American, and Black British poets. It provides training and equipment for the members of the Cycle of Knowledge; will entail four trips to the UK over 2015 and 2016 to work with scholars involved in developing digital poetry archives at Queen Mary University of London; and will result in a number of research publications. As part of the project, Deborah will also host an international workshop of poets and scholars at Rhodes University in September 2015 and will co-host, with Andrew van der Vlies, a colloquium on "The Verbal Text in National Literary Historiography" at Queen Mary University of London in 2016.
Responding to the news, Deborah said "I am absolutely delighted. Queen Mary University of London is home to a range of extraordinary scholars and I am looking forward to working closely with my co-applicant, Dr Andrew van der Vlies, and his colleagues. This long-term research project is multi-faceted and seeks to register the complex, multiple existences of South African orature. In the indigenous cultures in South Africa, orature is itself an archive: a means of recording the histories and achievements of ordinary people and their leaders. For contemporary poets, working within and reinventing the traditions, it is also a living medium, influenced by present concerns and global styles, yet reflecting the role of poetry within indigenous social practices. The postcolonial scholar Achille Mbembe has described the archive as an 'instituting imaginary.' In developing a digital archive to preserve and disseminate often ephemeral oral forms, register historical change and translocal influences, and promote the inclusion of oral and performance poetry within the national curriculum, this research project seeks to contribute towards a reconception of what constitutes 'the literary' in South Africa."
Source: Dr Deborah Seddon awarded British Academy Newton Advanced Fellowship to develop a Digital Archive of South African Orature
Please help us to raise funds so that we can give all our students a chance to access online teaching and learning. Covid-19 has disrupted our students' education. Don't let the digital divide put their future at risk. Visit www.ru.ac.za/rucoronavirusgateway to donate