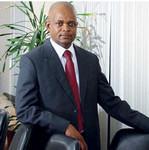 Thapelo Tsheole appointed Botswana Stock Exchange deputy CEO a year after graduating. A former student of UCT 's Graduate School of Business has been appointed deputy CEO of the Botswana Stock Exchange.
Thapelo Tsheole on Monday said he was honoured to be appointed to such an important position so soon after completing his MBA at the UCT Graduate School of Business. He graduated in 2013. Tsheole said he had learnt a lot during his time at the business school and this would continue to shape his future. He said he would focus on local and international growth opportunities.
"I will also continue to work in my past role of product development. I was in charge of contributing to Botswana's capital market development policy initiatives," Tsheole said. He said he would not forget the key things he had learnt at the graduate school of business business taught me several key values: to be passionate and to have a spirit of innovation, entrepreneurship and personal growth," he said. Tsheole had studied at other institutions before he landed at UCT.
Director of the graduate school of business Walter Baets said this was an opportunity for their former student. "We are extremely happy about Tsheole's appointment. It is always great when we hear of the achievements of our alumni. And this is a fantastic one," he said. Other than completing his MBA at the graduate school of business Tsheole obtained a Bachelor of Social Sciences degree at the University of Botswana and a Master of Commerce in financial markets at Rhodes University in the Eastern Cape.
The new deputy head of the stock exchange in neighbouring Botswana also did some programmes on financial markets. Tsheole will work with the CEO of the stock exchange, Hiran Mendis.
Caption: PASSIONATE: New Botswana Stock Exchange deputy CEO Thapelo Tsheole says one of the key things he learnt at UCT was to be passionate, a quality he'd take into his new job.
By: Siyanbonga Mkhwanazi
Article Source: THE NEW AGE