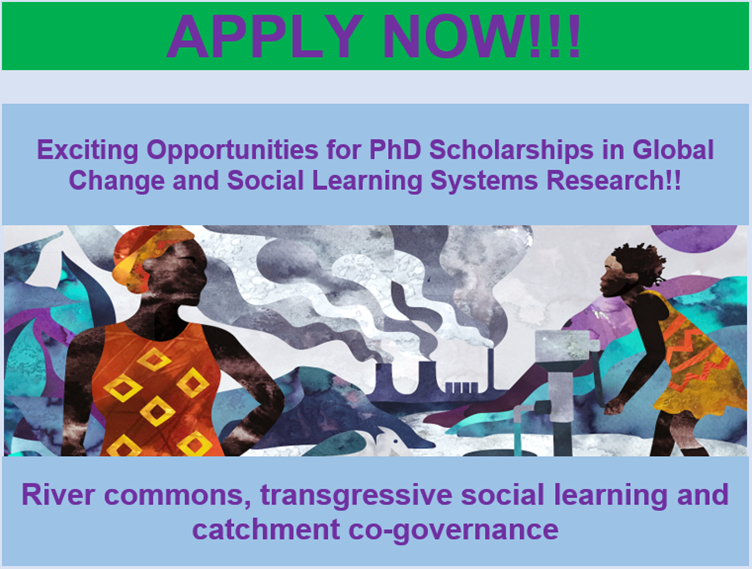 The SARChI Chair in Global Change and Social Learning Systems in the Environmental Learning Research Centre at Rhodes University, in partnership with Wageningen University in the Netherlands are inviting applications for scholarships for 3 PhDs from south/southern Africa to join the RIVER COMMONS research programme co-ordinated out of Wageningen University in the Netherlands, but implemented in South Africa by the SARChI Chair of Global Change and Social Learning at Rhodes University. The linked website offers more information, including an introductory video on the programme.
The RIVER COMMONS is about actively involving riverine communities in the co-governance of river systems, ensuring their healthy development. Top-down and more technocratic approaches around the world tend to side-line and overlook the critical role of local actors and organisations when implementing large scale area development projects. As a result, their interventions often affect watersheds, river flows, water quality and equal access negatively, e.g. by construction of large dams, water transfers, urban expansion and discharging untreated wastewater. In the RC programme PhD researchers will investigate nine cases of river commons in Europe, Africa, Asia and Latin America, where local communities and organisations co-govern their riverine environment. The project's aim is to learn from their experiences in situ and translocally (successes, problems and creative solutions), and build new conceptual and methodological tools for research, education and stakeholder interaction, to support river co-governance initiatives at multiple scales and in diverse contexts.
The RIVER COMMONS programme will be highly innovative and impactful in five related aspects: (1) it brings together an experienced research team across a wide range of disciplines within Wageningen University (environmental, social and animal sciences) in collaboration with world-class research institutes, international policy-making institutes, NGOs and broad dissemination networks; (2) its interdisciplinary team merges established and emerging scholars and students; (3) it uses a pioneering transdisciplinary science-policy-societal action framework to analyse the practices of co-governance; (4) it deploys an innovative River-Co-Governance Lab (RCL) methodology to build knowledge on co-governance practices together with the local stakeholders; and (5) it develops new cross-cultural education tools and capacity for sustainable and equitable nature governance.
We seek three highly talented and motivated PhD scholars to work on the following areas of study:
PhD 1: "The Limpopo River Basin, South Africa: Transgressive learning for reimagining transboundaried river politics and governance". This project will focus on the broad PhD question of 'How can River Commons politics be re-imagined across transboundaried river territories via transgressive, expansive learning across four countries in the Limpopo River Basin?' We envisage this to be a transboundary project in the Limpopo River Basin and particularly welcome SADC applicants from countries that form part of the Limpopo Basin to apply for this scholarship.
PhD 2: "Transgressive learning for the uMngeni River Commons in South Africa: Surfacing voices of the marginalised in River Commons communities". This project will focus on the broad PhD research question that this study would focus on and/or develop further is: 'How can uMngeni River Commons voices be amplified via forms of citizen science and transgressive learning involving the most marginalised in River Commons movements?'
PhD 3: "Scaling of citizen participation in Community-Based Water Quality Monitoring practice in South Africa". This project will build on recent research on how to support scaling of community-based water quality monitoring practices in South Africa. The broad question that this project will aim to address is: 'How can multi-scale forms and depth of engagement by citizens' networks in Community-Based Water Quality Monitoring practice in South Africa strengthen river system health?' We anticipate that this project will also be linked into the Water Research Commission's Ecological Infrastructure for Water Security capacity building research programme being supported out of Rhodes University's SARChI Chair and Institute for Social and Economic Research.
NOTE: Research questions can be further refined in dialogue with the PhD scholars.
By transgressive learning, we mean co-learning that challenges taken for granted socially unjust, unsustainable norms and practices, and that can transgress the limitations of such socially unjust, unsustainable norms and practices. We see it as an important transformative approach to co-governance of River Commons that recognises all voices, especially those most marginalised and excluded from river commons governance practices. We will also consider applications from researchers who are interested in the intersection between climate change / pollution / and co-governance of our river commons to apply.
NOTE:
Two of the PhD scholars above will be supported by DSI/NRF SARChI Chair Scholarships and will be registered at Rhodes University in South Africa, and will receive their PhDs from Rhodes University. These scholars will have to apply for NRF Bursaries under the SARChI Chair UID, and will be supported with additional funding from INREF to establish RIVER COMMONS CO-LEARNING / GOVERNANCE LABS which will allow for substantive co-engaged research practice. These scholars will also be supported with one international visit to Wageningen University and will join into INREF the RIVER COMMONS research community.
These scholars should be under 32 years of age, and should have attained a minimum of 65% for their Masters Degrees. They will be supported by the SARChI Chair to apply for an NRF Scholarship under the SARChI Chair's research programme and NRF procedures.
Scholars can be from the educational sciences, social sciences, or environmental sciences or inter-disciplinary / transdisciplinary social-ecological sciences and should have a background in studies related to environmental and water management and governance, environmental politics, or social learning.
Scholars will be supervised by Distinguished Professor Heila Lotz-Sisitka, Professor Eureta Rosenberg (Rhodes University, South Africa), and Professor Arjen Wals (Wageningen University, Netherlands). Additional co-supervisors can also be appointed.
One of the PhD scholars will be supported by scholarship funding from Wageningen University as follows:
The student will be registered as a PhD scholar (4 year programme) at Wageningen University in the Netherlands, and will be expected to live in The Netherlands for the first year (proposal writing & training) and the last year (thesis writing); and two years in his/her home country doing field research. During the years 1 and 4 in the Netherlands a gross allowance will be paid by the Dutch university (Wageningen-INREF in this case). Gross monthly allowance in The Netherlands (year 1 and 4) of €1653,60 per month and a holiday allowance of 8% per year ('Guest agreement'). During the years 2 and 3 in the home country living costs / salary should be provided by the home organisation. In order to assist in this financial cost for the home organisation, the PhD student's home organisation salary payment (yr 2 and 3) can be complemented by the INREF River Commons project through a supplement payment for research costs up to 750 Euros/month (apart from other project implementation allowances, see below). The candidate will be registered as a University of Wageningen PhD scholar, and will receive their PhD degree from the University of Wageningen.
The PhD scholars will be part of a network of 9 other PhD scholars, and an international network of interdisciplinary scholars working on development of River Commons co-governance labs, that focus on four dimensions of river systems: River-as-Ecosociety, River-as-Territory, River-as-Subject, River-as-Movement.
TO APPLY:
Applicants are asked to send:
A full CV,
A letter of motivation indicating which of the studies they are most interested in and why (PhD 1, 2 or 3),
Their Masters results (if possible a transcript, and if not some evidence of the final result of their study), and
A PDF copy of their Masters Thesis
Please send these to zandi.hempe@ru.ac.za by FRIDAY 16 JULY 2021, 12:00 NOON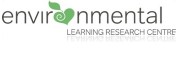 in partnership with