Dr Harilaos (Hari) Tsikos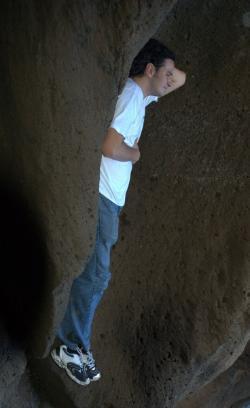 Senior Lecturer
Economic Geology & Geochemistry
Ph.D. Rhodes University (RSA)
M.Sc. Economic Geology, Rhodes University (RSA)
B.Sc. Geology, National University of Athens (Greece)
RESEARCH INTERESTS
Ancient biogeochemistry
Sedimentary ore deposits
Palaeoceanography/palaeoclimatology
For contact information, see the Staff page.
TEACHING IN THE DEPARTMENT
GLG102: Mineral Resources of South Africa
GLG302: Low-temperature Geochemistry; Economic Geology
GLG302: Field school: Precambrian Stratigraphy & Mineralisation
Honours: Hydrothermal & Sedimentary Ore-forming Environments
POST-DOCTORAL EMPLOYMENT
Department of Geology & Petroleum Geology, University of Aberdeen, Scotland, UK (funding byThe Leverhulme Trust) (2004-2005)
Department of Earth Sciences, University of Oxford, UK (funding by the European Commission - Research Training Network C/T-NET) (2000-2003)
Department of Geology – Palaeoproterozoic Mineralisation Research Group, University of Johannesburg (nee RAU), South Africa (funding by the National Research Foundation, South Africa) (1999-2000)
SELECTED PAPERS ILLUSTRATING INTERESTS
Fairey B, Tsikos H, Corfu F & Polteau S (2013) U–Pb systematics in carbonates of thePostmasburg Group, Transvaal Supergroup, South Africa: Primary versusmetasomatic controls. Precambrian Research 231, 194-205.
Moore JM, Polteau S, Armstrong RA, Corfu F & Tsikos H (2012) The age and correlation of the Postmasburg Group, southern Africa: constraints from detrital zircon grains. Journal of African Earth Sciences 64, 9-19.
Moore JM, Kuhn BK, Mark DF & Tsikos H (2011) A sugilite-bearing assemblage from the Wolhaarkop Breccia, Bruce Fe-ore mine, South Africa: evidence for alkali metasomatism and Ar40-Ar39 dating. European Journal of Mineralogy 23, 661-673.
Tsikos H, Matthews A, Erel Y & Moore JM (2010) Iron isotopes constrain biogeochemical cycling of Fe and Mn in a Palaeoproterozoic stratified basin. Earth & Planetary Science Letters 298, 125-134.
Gröcke DR, Rimmer SM, Yoksoulian LE, Cairncross B, Tsikos H & van Hunen J (2009) No evidence for thermogenic methane production by the Karoo-Ferrar large igneous province. Earth & Planetary Science Letters 277, 204-212.
Cockell CS, Tsikos H, Durante M & Parnell J (2007) Microbe-mineral interactions in naturally radioactive beach sands from Espirito Santo, Brazil – experiments on mutagenicity. Radiation and Environmental Biophysics 46, 247-253.
Jenkyns HC, Matthews A, Tsikos H & Erel Y (2007) Denitrification, euxinification and sedimentary iron-isotope evolution during the Cenomanian–Turonian Oceanic Anoxic Event. Paleoceanography 22, PA3208, doi: 10.1029/2006PA001355.
Van Breugel Y, Schouten S, Tsikos H, Erba E, Price GD & Sinninghe Damsté JS (2007) Synchronous negative carbon isotope shifts in marine and terrestrial biomarkers at the onset of the Aptian oceanic anoxic event-1a: Evidence for the release of methane into the atmosphere. Paleoceanography 22, doi:10.1029/2006PA001341.
Polteau S., Moore JM & Tsikos H (2006) The geology and geochemistry of the Palaeoproterozoic Makganyene diamictite. Precambrian Research 48, 257-274.
Tsikos H, Jenkyns HC, Walsworth-Bell B, Petrizzo MR, Forster A, Kolonic S, Erba E, Premoli Silva I, Baas M, Wagner T & Sinninghe Damsté JS (2004) Carbon-isotope stratigraphy recorded by the Cenomanian/Turonian Oceanic Anoxic Event (OAE2): correlation and implications based on three key-localities. Journal of the Geological Society 161, 703-710.
Tsikos H, Karakitsios V, Van Breugel Y, Walsworth-Bell B, Bombardiere L, Petrizzo MR, Sinninghe Damsté JS, Schouten S, Erba E, Premoli Silva I, Farrimond P, Tyson RV & Jenkyns HC (2004) Organic carbon deposition in the Cretaceous of the Ionian Basin, NW-Greece: The Paquier event (OAE 1b) re-visited. Geological Magazine 141, 401-416.
Tsikos H, Beukes NJ, Harris C & Moore JM (2003) Deposition, diagenesis and secondary enrichment of metals in the Palaeoproterozoic Hotazel iron-formation, Kalahari Manganese Field, South Africa. Economic Geology 98, 1449-1462.
SOCIETY MEMBERSHIPS
Society of Economic Geologists (SEG)
Society for Geology Applied to mineral deposits (SGA)
Geological Society of South Africa (GSSA)
The Geochemical Society
EDITORIAL SERVICE
Associate editor – Geological Journal (2009-present)
POST-GRADUATE (CO-)SUPERVISION
Ms L. Sciscio (MSc, awarded 2011) - funded by AOP & MQAMs
S. Foulkes (MSc, 2010-12) - funded by MINTEK
Ms L. Fryer (MSc, 2010-12) - funded by NRF & ASSMANG Ltd
Mr B. Fairey (MSc, 2011-13) - funded by KUMBA Fe-ore
Mr J. Land (MSc, 2011-13) - funded by KUMBA Fe-ore
Mr S. Rafuza (MSc 2013-14) - funded by Rhodes University & NRF
Mr T. Rambuda (MSc 2013-15) - funded by BHP-BILLITON
Ms L. Jolly (PhD, 2011-16, University of Johannesburg) - funded by ASSMANG Ltd
Last Modified: Fri, 02 Mar 2018 18:45:58 SAST