About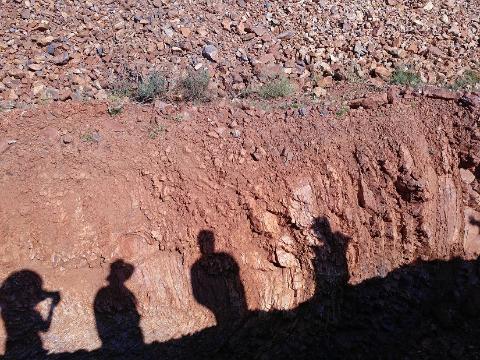 Postgraduate Research In Iron and Manganese Ore Resources
Welcome to PRIMOR!
PRIMOR is a formal research unit established in the Geology Department at Rhodes University in 2013, through generous funding from the company ASSMANG Ltd. The acronym PRIMOR stands for: Postgraduate Research in Iron and Manganese Ore Resources; it is a virtual research entity, dedicated to the study of iron and manganese deposits and their origins through the involvement of post-graduate students (MSc, PhD) and postdoctoral fellows. The primary goal of PRIMOR is to provide a hub for world-class research and training of geoscience graduates with chosen focus on the economic geology of iron and manganese.
Recent and current research focus of PRIMOR is on the famous iron and manganese deposits of the Northern Cape Province of South Africa, and to a lesser extent on deposits and occurrences of both metals in adjacent southern African countries, mainly Botswana and Zimbabwe. Our research addresses fundamental and applied aspects of research whereby iron and manganese are treated either as primary economic commodities and/or as invaluable proxies for ancient sedimentary environments and processes. Members of PRIMOR are involved in several active collaborations with researchers in southern Africa (e.g. University of Cape Town, University of Johannesburg) and internationally (e.g. University of California – Riverside, University of Durham, Utrecht University, SUERC, University of Western Australia, ENS Lyon, Princeton University). Although most projects carried out at PRIMOR are in direct and close synergy with our primary funder, i.e., ASSMANG Ltd, selected research projects involving graduate students have also been carried out in collaboration with other mining companies and geological consultancies alike, namely KUMBA IRON ORE, SOUTH 32, GIYANI METALS, TSODILO RESOURCES, and OREX EXPLORATION.
Interested Geology graduates wishing to further their studies at post-graduate or post-doctoral level as part of PRIMOR, are strongly encouraged to return to this site regularly in future, and to contact the Head of the Unit, Dr. Xolane Mhlanga, via e-mail in the first instance.
Last Modified :Wed, 24 Aug 2022 12:12:38 SAST


Related Content
Sponsors