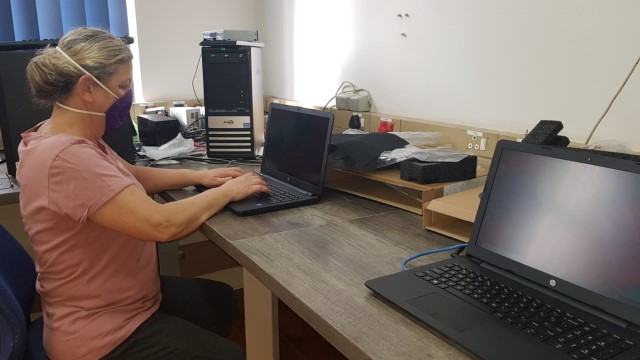 Although the concept of remote teaching at Rhodes University is not new, the Covid-19 pandemic has brought this form of teaching and learning sharply into focus.
According to Natalie Ripley, Director of Information & Technology Services at Rhodes University, the University has grappled with the concept of remote teaching for a long time. "In the past, we had discussed and even researched the viability of remote teaching as a form of enhancing classroom-based teaching, rather than replacing it entirely," she said.
However, the consensus had always been that the institution wasn't ready for such a significant change, and the idea was never implemented. "It was a really complex conversation," Ripley said.
"But this doesn't mean the idea of remote learning wasn't thoroughly investigated. In fact, a lot of the success we have had in the past few months with transitioning to remote teaching and learning is due to the research we conducted and the groundwork we put in place at that time," explained Tracey Chambers, Service Delivery Manager at I&TS.
With this pandemic, said Ripley, we were catapulted into a do-or-die situation with regards to remote learning and the work that Chambers and the I&TS team had already done was crucial to understanding what needs to happen to enable this form of learning. "We had already explored possible obstacles, so it was much quicker and easier to get our students and staff ready for remote teaching and learning than what it might have been had we not explored this option a few years ago," she explained. "We knew where we had to go and the steps to get there."
So the team very swiftly jumped to task ensuring there were enough Zoom licenses, enough laptops, and enough technical equipment required to be able to roll this out across the academic platform.
However, despite the boost, the process was certainly not without challenges. "The research that was done in the past was based on a hybrid remote learning/classroom learning model, so we were still faced with quite a lot of unexplored territory with students being completely off campus," said Ripley.
One of the biggest hurdles was ensuring each student has a learning device and access to the internet.
"Before now, we never needed to know which of our students have laptops, because they could just use the labs if they didn't have a personal device," said Ripley. "So we had never collected this information before."
As soon as a State of Emergency was declared by President Ramaphosa, Rhodes University issued a survey to students to get an indication of what the device and internet access needs of the students were. "And when that data came back, it was another challenge to export it into a format that we could use to assess and to analyse who we should be giving the laptops to," Ripley recalled.
However, overall, the I&TS Department believes there is a positive slant to how the Covid-19 outbreak has changed the University's way of teaching and learning.
"If ever you want to get people to embrace technology, sometimes these kinds of disruptions are necessary," said Chambers. "We see it as a blessing in disguise because we have been trying to encourage academics to embrace online teaching and learning as a way to supplement coursework, for many years. And we hope this has made them understand the many benefits that come with this method of teaching."