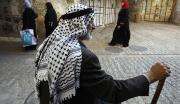 The keffiyeh has been a powerful political symbol for decades. But Hebron, where it is manufactured in bulk and worn as a statement of courage, is the broken centre of a fast-unravelling region.
The keffiyeh has been the most provocative and explicit emblem of Palestinian solidarity since Yasser Arafat gave it global exposure in the 60s and 70s. Throughout his political career, Arafat was rarely seen without the traditional headdress of Arab men in the Middle East. Western media outlined its powerful symbolism by circulating images of Leila Khaled wearing a keffiyeh and holding an AK-47. The female member of the armed wing of the Popular Front for the Liberation of Palestine (PFLP), who is famed for being involved in the 1969 high jacking of TWA flight 840, is a prominent face on the Apartheid wall and buildings in Gaza and the West Bank to this day, as are images of Arafat*.
In the 1980s and 90s, the scarf became a fashion item and a way in which young left-leaning students and activists asserted their identity. In the late 90s it even flooded department stores in Tokyo as a season must-have. The demand for keffiyehs hit an all-time high during the second Intifada and in response, their production shifted from Palestine to China. Since then factories have been forced to shut down and Palestinians are even importing the square cotton fabric with distinctive patterned stitching and tassels. There are two factories left, located in Hebron and Bethlehem, although neither are running at full capacity.
On 18 November, as the devastating assault on Gaza by Israeli Occupying Forces (IOF) was intensifying, Twitter and street talk in Ramallah was warning of house invasions and arrests in the Old City of Hebron, as well as stone-throwing protests from Palestinian youths. A photojournalist, human rights activist and I decided to stand witness to these events and investigate where the symbol of Palestinian resistance was being manufactured.
Hebron is without a doubt the most volatile and ghastly place I have ever been to. It is infamous for its vulgar Israeli settler community that frequently hurls stones and abuse at Palestinian school children as they bravely walk to their classrooms, amongst other acts of dehumanisation and violence. The over-powering number of Israeli soldiers that are stationed there to "protect" the settlers do nothing to prevent the persecution of Hebron's native Arab community, and have been reported to even join in when the fancy takes them. It is like the capital of ugly in a vicious and fast-unravelling region.
In desperate response to "Operation Pillar of Defence", West Bank Palestinians began to organise frequent protests and confrontations with Israeli soldiers at the checkpoints and borders that enclose them in their diminishing and fractured homeland.
These confrontations generally play out in the same pattern: boys and girls from 10 – 30 years old, wearing keffiyehs, and daring swagger that points toward a lost youth and the contamination of society, offer up their bodies before a baying line of fully armed soldiers. They move around checkpoints or through refugee camps with deft, exhilarating and practiced skill. It's a game and everyone, including the soldiers, are young enough to join in. The final destination, however, is a morgue, and the impact on the might of the Zionist project and overall occupation of Palestine is minimal. In fact, it is only used as further justification for defensive paranoia.
The keffiyeh has a force and emotive trajectory that seems to propel not just Palestinians but their supporters too. The "Wild Wild West" brood of journos and activists based in Ramallah that speed through checkpoints and into the line of fire are high on the charged air and hungry for bloody action. This is the Bang Bang Club 2012.
Given this glamorous and dangerous image, I found it difficult to link the product with the place of production when I walked into Harbewi factory. Overlooking the godforsaken Hebron Valley, a dusty and broken down warehouse produces the array of colourful cotton keffiyehs – black for Fatah, red for Hamas and pink/green/blue/violet for tourists. Three-quarters of the machinery is out of use, and the workers look like oddly shaped shells tossed from the back door of a mental asylum. Convulsing to the din of ancient mechanics and forgotten dreams, they produce these mystically powerful square emblems of rebellion, hope, freedom, justice, zeal, life and death.
At dusk we left the factory and walked towards the Old City following the stench of "skunk water", a crowd-control strategy that is a mixture of chemicals, sewage and rotten pulp emitted from bone-braking hosepipes. As we approached cobbled alleyways of architectural heritage we heard the blast of tear gas canisters. Heavy clouds of smoke filled homes, families and livelihoods.
The photojournalist with me fixed on a gasmask and rushed around the corner into the heat of the action to capture a shot that would flicker onto a couple of thousand computer screens the following morning, and then flicker off them, just as quickly, into the virtual ether of meaninglessness and moral depravity.
I hung behind with my bag of new keffiyehs and a raw onion to help soften the eye-watering, mind-numbing and chest-closing effect of tear gas. Four kids sprinted around the corner, and under the tungsten lamppost to my left they collapsed to the floor, coughing and writhing from the chemical infiltration into their young airwaves. Their keffiyehs are too porous to protect them from the poison of occupation. Behind them, through a cracked and dirty window, I saw a Palestinian mother preparing dinner. She stood at the stove, silently stirring a pot. Her head was motionless as she strained to concentrate on the rituals of normal life.
It is a dark absurdity that the normality she so desperately tries to foster is her biggest enemy. And it is a dark tragedy that despite keffiyehs, consumerism and solidarity, she cannot escape this absurd existence.
Written by: Nina Butler
Picture credit: http://dailymaverick.co.za
Nina Butler is an MA student from Rhodes University, currently in Ramallah for research purposes. This article was published on Daily Maverick online.