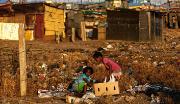 A whopping chunk of the government's expenditure for 2013/14 will go on social services. But ahead of Finance Minister Pravin Gordhan's budget speech on Wednesday, civil society groups indicated that they would be watching closely to see if political outrage expressed about violence against women in particular would find reflection in this year's financial provisions. The verdict? A little, but probably not enough.
As we've commented recently, there seems to be a new resolve in the South African air when it comes to tackling the country's gender-based violence epidemic. It's a sense fostered by the media, seen in the proliferation of op-eds and talk-show hosts denouncing the problem; and by politicians, seen in the decision to devote the first post-State of the Nation Address (Sona) debate in the National Assembly to the topic, as well as a series of stirring pronouncements from the country's top political heavyweights.
The Shukumisa Campaign, a collective of groups working in the field of sexual violence, said before the national budget speech that it was hoping to see political rhetoric condemning gender-based violence "translated into rands and sense". In particular, the campaign earmarked budget allocations for health, social development and the criminal justice system for close attention, as these are the government departments with a crucial role to play in this area.
The campaign was additionally concerned about the lack of state funding for many specialised rape survivor care centres since September last year. Among the centres Shukumisa pointed to as being affected by this are the 51 Thuthuzela Care Centres (TCCs) nationally. The TCCs operate in public hospitals in communities with a high prevalence of rape, and provide an integrated response to rape survivors that includes counselling, a medical examination, the opportunity to bath or shower and have a statement taken within the centre. The centres are internationally well regarded.
It has for some time been a gripe of South African that many of them essentially do the work of government when it comes to supplying social welfare services, without receiving commensurate government support. For a time, international donors seemed to fill the gap; but many NGOs have seen the foreign donations that were previously their lifeblood dwindle away over the past two years.
The budget appeared to acknowledge this, stating that, "Many NGOs are facing financial difficulties as a result of additional demand associated with their responsibilities and a decline in external donor funding." NGO funding for welfare services from provincial governments in 2012/13 totalled R5 billion. In 2015/16, the budget announced, this will rise to R6,5 billion.The important TCCs are to receive extended funding. The budget made other, more vague provisions: to strengthen the involvement on NGOs in public employment programmes, for instance.
In general terms, the budget's social spend outweighs anything else: of the total consolidated government expenditure of R1,15 trillion, R682,3 billion goes on social services (as compared with, say, R23,4 billion on agriculture and rural development). This year also saw the announcement of increases in the amounts of social grants. Old age and disability grants go up from R1,200 a month to R1,260; the foster care grant increases from R770 to R800, and the child support grant will go up to R300 a month in October. Gordhan announced that by 2016, all citizens over a certain age would be eligible for the old age grant, as means tests will be scrapped.
The criminal justice sector is also due for a revamp, the budget announced, with R1,2 billion set aside for a modernisation programme, and R2,5 billion reprioritised to improve detective and forensic capability. Additional funds are also to be made available to Legal Aid South Africa and the South African Human Rights Commission. In total, spending on defence, public order and safety is up to R154 billion.
Nonetheless, civil society voices weren't leaping to express unmitigated enthusiasm after the budget announcement. The Shukumisa Campaign's Lisa Vetten sent out a statement which expressed qualified satisfaction, saying that Shukumisa needed a finer level of detail to fully assess the budget's potential impact. The campaign "cautiously welcomes the allocations to social work services to increase employment of social workers and to provide additional support to non-governmental organisations providing critical welfare services," the statement read. It also welcomed the increased funding for the TCCs.
But the campaign also demanded more detail about how the funds would be used and how quickly they would be released. "Services addressing violence against women are at crisis point," the campaign said, citing the loss of resources for rape survivor care centres. "The last few weeks have underscored the virulent extent of daily, grinding violence against women and the need for an urgent response." This urgency appeared to be missing from the budget.
The Women's Legal Centre's Sanja Bornman was even more pessimistic. "We have not been given assurance that the state is truly putting its money where its mouth is with regards to GBV [gender-based violence]," she told the Daily Maverick. "Increased spending on Thuthuzela Care Centres is good news, but does it relate to rolling out more of these centres, or taking over the funding of existing centres from international donors? There are other specialised rape survivor care centres that have not received state funding for the last six months."
Bornman felt that given the spotlight placed on gender-based violence over the past weeks, the budget had disappointed in neglecting to show a specific concern for this issue. "After a lacklustre State of the Nation Address, we had hoped that actions – in the form of very specific allocations – would speak louder than words," Bornman said.
Others say that the yearly public hoo-hah over the budget is all well and good, but of little value if nobody's watching the public purse for the rest of the time. This was the line taken by the Social Justice Coalition's Gavin Silber, who expressed concern that public scrutiny of the budget is not extended year-round. "We tend to restrict our budget awareness to how much money is allocated to certain departments and projects once a year, but not enough to whether that money is spent appropriately between budget speeches," Silber told the Daily Maverick. Of the approximately R85 billion allocated to municipalities this year to provide essential services, Silber pointed out, a substantial amount is disbursed to outsourced service providers.
"These are not monitored by municipalities, and consequently get away with failing to provide the services they are paid to deliver," Silber said. "Toilets are left to fall into disrepair, houses collapse, streetlights go dark for months, and corruption thrives when service providers cut corners because government fails to monitor expenditure and performance."
Written by: Rebecca Davis
Picture credit: Daily Maverick
Rebecca Davis studied at Rhodes University and Oxford University. This article was published on Daily Maverick.