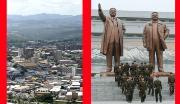 It's no secret that the South African Communist Party is a supporter of the North Korean state. What you may not know, however, is that there's a special South African organisation tasked with celebrating the good works of the Kim dynasty. In Mpumalanga, more than 1,600 people meet up regularly under the auspices of the South African Association of Friendship and Solidarity with Korean People.
In South Africa, as is the case all over the world, there's a tendency in some quarters to view North Korea as inherently comedic. Many columnists have pontificated on why we find the nuclear threats of Iraq terrifying, and the sabre-rattling of North Korea faintly ridiculous. Mail & Guardian online editor Chris Roper wrote a piece last week in which he denounced what he sees as underlying racism in much of the caricaturing of North Korean leader Kim Jong-un. Whether you agree with Roper or not, it's undeniable that for many people, the Hermit Kingdom is lazy shorthand for a joke state.
In fairness, it is North Korea's own state propaganda machine that has continuously supplied material for the rest of the world's comedy routines. There was the poorly-animated YouTube video they released in February showing New York City burning after being hit by a rather remedial-looking North Korean rocket. There was the claim last November that Korean archaeologists had discovered an ancient unicorn lair; or that time last July when they "borrowed" all the Disney characters to appear on TV with Kim Jong-un.
There's also the small matter of the relentless mythologising around the Korean leader and, particularly, his father, Kim Jong-il, presumably to try to ensure a cowed population remains in thrall to them. North Korean state media reported that Kim senior scored 11 holes-in-one the first and only time he ever picked up a golf club. His birth was prophesied by a swallow and heralded with a double rainbow. He wrote 1,500 books in three years (which, incidentally, would make him the perfect candidate to chronicle every event in the Oscar Pistorius story). Big shoes indeed for Lil' Kim to fill.
But in most ways, there's nothing remotely funny about North Korea. Of course, there's a lot we don't know about the country, since journalists are only let in as part of tightly-controlled tour groups, if at all. (The BBC is currently in hot water for having smuggled journalist John Sweeney into the country undercover, as part of a group of students from the London School of Economics who claimed they were only informed of his potentially endangering presence when they were already in the North Korean capital of Pyongyang.)
We do have the testimonies, however, of North Koreans who have escaped the country. A book called Escape from Camp 14, published in 2012, told the story of Shin Dong-Hyuk, thought to be one of the only people ever to escape from a North Korean labour camp. The New York Times called the book a "parade of horrors", chronicling how camp prisoners harvested frozen human excrement, ate rats and had their fingers summarily chopped off as punishment. It's estimated that between 150,000 and 200000 North Koreans are currently held prisoner in labour camps, which is no laughing matter.
Some analysts say that we should certainly be taking North Korea's current nuclear threats seriously, too. The Atlantic published an op-ed last month with a reminder that it's not just North Korea's own nuclear weapons that people should worry about, but the possibility that North Korea could export nuclear technology to other worrisome states, like Iran. "Remember that the North did send a nuclear reactor for producing bomb-making material to Syria," the authors wrote. (The unfinished facility was destroyed by Israel in 2006).
But whether you mock it or fear it, it's safe to say that North Korea doesn't have an enormous international fan base at the moment. Yet worry not, Pyongyang, because in the South African province of Mpumalanga – or, as the North Korean state news agency likes to call it, "Mfumulanga" – the North Korean flag continues to fly high.
The South African Association of Friendship and Solidarity with Korean People featured proudly on the North Korean state news agency website last week, under the headline "Day of Sun to be Celebrated in South Africa". In "Mfumalanga", the article announced, a "preparatory committee" had been inaugurated in early April in order to celebrate the birth anniversary of President Kim Il-sung (the Day of the Sun). The article announced that Bonakele Majuba, the association's chairman, would preside over the "diverse political and cultural events" the website anticipated happening to mark that significant date.
Bonakele Majuba is the secretary of the SACP in Mpumalanga. He is best known for having been a militant and outspoken voice against corruption in the provincial legislature. Majuba told a protest in 2012, after a spate of killings of Mpumalanga politicians: "We are not afraid, and let me tell everyone that if someone can kill Bonakele Majuba, today, I know I will die, but will come back as a ghost to fight against corruption."
Majuba told the Daily Maverick via telephone on Tuesday that he has held the position of chairman of the South African Association of Friendship and Solidarity with Korean People, which we'll abbreviate to SAAFSKP, since 2006. He inherited the role from his predecessor as SACP Mpumalanga secretary, so it appears that the two positions go hand in hand. The SAAFSKP meets, he said, "mostly when there are big events to be celebrated"; generally in the Korean Embassy. "In Mpumalanga it's big," he said, when asked about the size of the organisation. "Probably about 1,600 members. In Gauteng we also have some members."
There are similar groups all over the world. The Korean Friendship Association, which meets in London, claims to have over 15,000 members. A rather uncharitable profile in the Independent last year on its leader – a Spanish IT consultant known as Alejandro Cae de Benos (to his mom) and Zo Sun-Il (to his comrades) – concluded that de Benos might be involved largely because he enjoys being treated as a bigshot by the Pyonyang government. When de Benos travelled to Pyongyang, he told the journalist, "Suddenly, I'm a very, very respected person."
Bonakele Majuba visited Pyongyang last year as a guest of the North Korean government. He stayed there for two weeks, and seems to have enjoyed it, though he didn't let on whether or not they treated him like a bigshot. A picture posted on another North Korean propaganda website shows Majuba with a group of other visitors posing in front of a glass-plated building in Pyongyang. It looks quite cold. Majuba was not the only African who featured in that delegation: also present was Gaston Mboyo, chairman of the Democratic Congo-Korea Friendship and Solidarity Association.
Majuba sees North Korea as a deeply principled socialist state. This is also why the wider SACP continues to support North Korea, he says. The ANC Youth League, too, has historically been an ardent fan of North Korea: upon the death of Kim Jong-il, the league penned a lyrical tribute praising the dictator for having combatted climate change. The official South African government position on North Korea has been to voice increasing criticism of its nuclear programme since 2006, although the government previously discouraged the UN Security Council from taking punitive action against North Korea.
"North Korea is a country which is trying to build itself through socialism but which is struggling economically because of sanctions by America," Majuba maintains. Sanctions have certainly depressed North Korea's economic growth, but so too have drought, a lack of arable land, bad governance and the amount of resources diverted towards defence. America promised last year that it would give 240,000 tons of food aid to North Korea to compensate for a disappointing harvest in 2011, but last Friday the White House said that it would not go ahead with any nutritional support due to North Korea's unsuccessful launch of a long-range missile.
"The US is dividing the people of Korea," Majuba insists. When it was suggested that perhaps it was North Korea who was dividing the people of Korea, having led a Stalin-supported invasion of South Korea in 1950, he vehemently disagreed. "The US was always there," he said. "It had other intentions which we don't know about. Ulterior interests."
What kind of ulterior interests? "Imperialist intentions. Possibly they want to occupy the Korean Peninsula to advance their imperialist agenda. I think those [North Korean] people are fighting for their sovereignty," Majuba says.
Majuba believes that North Korea has the right to defend itself with nuclear weapons. "Otherwise they would long ago have been attacked like Iraq," he says. "I think nuclear weapons must be removed from all countries, but we can't have countries bullying others. It's an imbalanced kind of global society. America is bullying."
Isn't North Korea acting a bit like a bully with its threats towards South Korea? "No," replied Majuba, unruffled. "It is South Korea and the USA which are threatening North Korea. Having their [military] drills there."
When asked if he admires Kim Jong-un, Majuba is evasive: "I admire the people of North Korea for standing up for their rights. All of them, including Kim Jong-un." (If stories of North Korean authoritarianism are true, Kim Jong-un may be one of the only North Koreans able to stand up for his rights.) Does Majuba believe the propaganda stories circulated about the Korean leaders? The double rainbow? The fact that Kim Il-sung never defecated? "No, I don't really know about those," he replied, with the hint of a chuckle. "I am not interested in that. I am interested in their economic situation of socialism."
Fair enough, but do the allegations about North Korea's human rights record not worry him?
"When I was there I saw the people of North Korea living nicely," he said. "I don't know, but I know every country leading the way in socialism is always smeared by human rights activists. Cuba, China… These allegations to me remain unfounded."
What about the damaging testimonies of those North Koreans who have escaped?
"People will always run to where they are recruited to go and do their propaganda," Majuba said dismissively. "In Cuba, people jump in the sea to Miami and are used for propaganda. People can be bought to come up with such allegations."
There was a pause, and then he added: "Of course, if there was evidence, we would condemn it."
Written by: Rebecca Davis
Picture credit: Daily Maverick
Rebecca Davis studied at Rhodes University and Oxford University. This article was published on Daily Maverick.