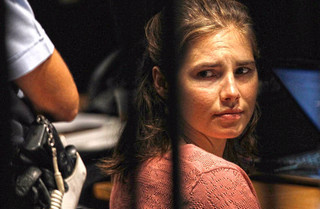 The faces of American Amanda Knox and her Italian boyfriend Raffaele Sollecito dominated newsstands around the world between 2007 and 2011, as they were convicted and then sensationally acquitted of the murder of UK student Meredith Kercher.
When released from jail in Perugia in 2011, it seemed that their case was over forever. But on Tuesday in Rome, in another stunning twist, the highest court in Italy set aside the acquittals of Knox and Sollecito and ruled that they be re-tried for murder.
If you think the Oscar Pistorius bail hearing amounted to a trial by media, as was frequently suggested last month, it had nothing on the murder trial and appeal of Amanda Knox and Raffaele Sollecito. As the Daily Maverick noted when the two were released on appeal in 2011, it got to a stage where it became increasingly difficult to know where to turn for objective reporting.
The problem was partly due to the fact that most court proceedings, at the Perugia appellate court, took place in Italian; but it was largely due to the distinct split in bias that emerged between US and UK reporting on the matter.
In international reports, Raffaele Sollecito remained little more than a cipher: the 23-year-old computer science student was reduced merely to the role of Amanda Knoxs co-accused, and Knoxs ex-boyfriend. It was Knox who grabbed the attention of the worlds media.
The American student, 20 years old at the time of the murder of her Perugia housemate Meredith Kercher, was alternately demonised often by UK tabloids as a hyper-sexed party-girl, and contrastingly rendered as a saintly naf, largely by the US media. The Friends of Amanda Knox website produced content in five different languages and sent out pro-Knox media packages; journalists who were felt to have convinced themselves of Knoxs guilt were allegedly blacklisted from information.
A US judge who involved himself with the pro-Knox camp was sanctioned for writing members of the Italian judiciary letters on court stationery. A diplomatic row between Italy and the US threatened to brew when secretary of state Hillary Clinton was petitioned to intervene. On the other side, the Italian police and judicial system were accused of rampant anti-Americanism in their handling of the case, although the few journalists who regularly attended the trial said they did not witness this bias in action.
When Knox and Sollecito were acquitted in 2011, the verdict did little to change minds already made up. Knox supporters greeted it as a vindication; for others, lingering questions remained. The pairs initial sentences, handed down in 2009 26 and 25 years in prison respectively were overturned based largely on the testimony of independent forensic experts who cast doubt on pretty much every shred of forensic evidence initially used to convict.
The case had rested heavily on two such pieces: a knife found at Sollecitos house which was said to have Knoxs DNA on the handle and Kerchers DNA on the blade, and a bra clasp belonging to Kercher which was said to contain Sollecitos DNA.
The independent forensic experts pointed out flaws ranging from the amount of DNA discovered to the way in which the evidence had been handled. Move over, Hilton Botha: the bra clasp which was initially used to convict the two was only found 47 days after the murder and had been moved from its initial location.
Ultimately, the appeal court found that there was little reliable evidence, no firm murder weapon and, crucially, no reasonable motive. (At one stage a prosecutor simply suggested that we live in a time of motiveless evil.) There was also the fact that DNA evidence linked an Ivorian man, Rudy Guede (who had a recent history of attempted robberies), to the scene.
Guede initially fled Italy but subsequently gave himself up, and is currently serving a 16-year jail term for Kerchers murder. Crucially, however, the court which handed down Guedes sentence indicated it believed there had been more people than Guede involved.
Other questions lingered: in particular, regarding inconsistent and at times conflicting testimonies given by Knox and Sollecito; a lack of verifiable alibis for the two; allegedly suspicious post-murder behaviour on their parts; and the fact that Knox had initially given a sworn statement pinning the murder on local bar owner Patrick Lumumba. For this latter untruth Knox was convicted of the crime of calumnia, or slander.
When the two walked free in 2011, the family of slain Meredith Kercher expressed unhappiness with the outcome and the lack of answers to their questions. But Knox and Sollecito returned to something approaching normal life or a weak facsimile thereof. Sollecito, who is from a wealthy family, is apparently now studying robotics in Verona. Late last year he released a memoir of the case, Honour Bound: My Journey To Hell and Back With Amanda Knox, and spent time on the US talk-show circuit to publicise it.
In the book, Sollecito maintains his innocence but also says that he does not remember clearly whether Knox spent the night of the murder with him. He also criticised Knoxs behaviour immediately after the murder.
In reference to Knox having taken a shower in the bathroom she shared with Kercher despite there being evident traces of blood in it at the time, he wrote: Many Italians, including my family, could not fathom how she could go ahead with her shower after finding blood on the tap, much less put her wet feet on the bath mat, which was also stained, and drag it across the floor. But according to Barbie Nadeau, a journalist who covered the Knox case in Italy from the start, the book gives very little attention to the evidence presented in court.
As for Knox, she moved back to Seattle, allegedly taking classes at the University of Washington and spending much of her time at the flat of a new boyfriend, James Terrano. Knox has kept an exceedingly low profile over the last year and a half, though pictures of her dressed casually walking the Seattle streets have occasionally made their way into the papers.
She sold her own account of the case for an alleged $4 million, said to provide welcome relief to a family whose finances were decimated by travelling back and forth to support Knox at the trial. Amanda Knox: Waiting To Be Heard is slated for release on 30 April, with a high-profile interview to publicise it already being promoted on ABC. This will be Knoxs first big TV appearance since her release assuming, of course, it goes ahead.
Because things seem far less certain after the events of Tuesday. Italys highest court the Court of Cassation was always scheduled to consider the 2011 verdict of the Perugia court this March. In advance, lawyers for both Knox and Sollecito reported their clients as feeling nervous, but they must surely have been hoping for the best.
Among the worlds media, there seemed an expectation that the 2011 decision would be upheld. The Court of Cassation was not tasked with considering whether Knox and Sollecito were innocent or guilty, but simply with examining the procedural handling of the trial that freed them. Journalists who were present, however, reported that the hearing took far longer than normal, with lawyers for both sides rehashing evidence from trial.
Perugia prosecutors had filed a 112-page appeal against the acquittal, available to read in an unofficial English translation carried out by a lobby group seeking justice for Kercher . The document argues, among other things, that some of the witnesses whose testimony was discredited should not have been such as the shopkeeper who testified he saw Knox buy bleach at his shop at opening time on the morning after the murder, contradicting Knoxs account that she slept at Sollecitos house until 10:00.
It argues, moreover, that the court had selectively chosen to believe bits of Rudy Guedes testimony but not others; and that the same selective interpretation had been applied to the forensic evidence. In court, prosecutor Luigi Riello suggested that the court had dismissed forensic evidence as contaminated when it implicated Sollecito and Knox, but had defended its accuracy when it happened to implicate Guede.
Meanwhile, Sollecitos attorney, Giulia Bongiorno, reportedly continued to point to the poor quality of police investigation on the scene, and also objected to the argument that attempts had been made to pin everything on Rudy Guede. I tire of hearing the poor discriminated black guy argument. His DNA was found all over the crime scene.
The matter was heard by six judges, who resolved to sleep on the matter on Monday night, even though a verdict had originally been expected on that day. When it came on Tuesday morning, the outcome was a bombshell: the acquittal of Knox and Sollecito was overturned, and a new murder trial ordered. The court was told by Judge Saverio Chieffi that the reasoning behind the judges decision would be published within 90 days.
The family of Meredith Kercher expressed satisfaction with the outcome. ABC reported that, on entering the court on Tuesday, the Kerchers lawyer, Francesco Maresca, said: We feel that Amanda and Raffaele are guilty and were in the room with Rudy Guede.
Neither Knox nor Sollecito was in court to hear the outcome, though they would have been anxiously awaiting it at home. Knox released a statement calling the news painful and labeling the prosecutions case as completely unfounded and unfair. After paying tribute to Kerchers family, Knox concluded: No matter what happens, my family and I will face this continuing legal battle as we always have, confident in the truth and with our heads held high in the face of wrongful accusations and unreasonable adversity.
It is said that the new trial is likely to go ahead in Florence early next year. The question on everyones lips is: Will Knox have to return to Italy for it The answer, it appears, is no and Sollecito may also escape attending, despite being in residence in the country.
NPR reported that Knox cannot be compelled to attend the trial, and the US would in any case be highly unlikely to agree to extradite her because of US provisions in law against double jeopardy: in other words, a criminal defendant cannot be retried for something they have already been acquitted of. If Knox is convicted at the new trial, and that conviction survives a subsequent appeal, Italy could seek her extradition, but it is also possible that the US and Italy could come to a deal to keep Knox in the US.
Even if Knox and Sollecito were to be found guilty once and for all, it will thus be at the end of a legal process which is likely to stretch on for some time. If Tuesdays verdict had gone the other way, the two could have put the case behind them forever. Instead, the murder trial which has defined half their 20s will continue to cast a long shadow over their lives and full closure remains at bay for the Kercher family.
By REBECCA DAVIS.
Rebecca Davis studied at Rhodes University and Oxford before working in lexicography at the Oxford English Dictionary.
Photo: Amanda Knox looks as she attends in a court during a trial session in Perugia July 30, 2011.
Photo source: REUTERS/Alessandro Bianchi
Article source: The Daily Maverick