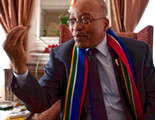 The National Prosecuting Authority is in crisis. Crisis is, in fact, the wrong word. The right word may well be tatters. No capacity. No political will. No credibility. The failures can sear one's retina: J. Arthur Brown. Andries Tatane. Anene Booysen. A list of damning mistakes, disasters and possibly deliberate missteps.
It's easy to scream and shout. We're a country accustomed to doing that. We're also pretty good at the blame game. And there's plenty to go around, and not just for the usual suspects. But when you get right down to it, it's really part of a much larger, disturbing pattern.
As we mentioned it, it's easy to be harsh on those leading the NPA these days, first among them Advocate Nomgcobo Jiba, who's been in temporary charge for over a year, as with so many of the top jobs that President Jacob Zuma has power over: 'acting capacity' reigns. Thus political will has ebbed from it over time.
But the real problem is the soil which has encouraged the weeds of incompetence to grow. That soil is our broken politics, a system that gives the power to appoint the National Director of Public Prosecutions solely to the President and his pleasure.
It was President Jacob Zuma who appointed Advocate (for now, until the Bar Council expels him) Menzi Simelane as head of the NPA. As we said at the time, he was obviously patently unsuitable, and would not suit the Constitutional prescription of being "fit and proper". The Constitutional Court agreed. (That allowed all of us to throw as much mud as we could find at Zuma.)
But we really need to go back a bit. When Zuma came to power in 2009, he had escaped, just, corruption charges of his own. Which, according to Judge Chris Nicolson, had been influenced by a political conspiracy at the heart of the NPA. The main man there, according to the "Zuma Spy Tapes", was then-NPA head Bulelani Ngcuka. Ngcuka was appointed by Thabo Mbeki.
And to compound that sin, Ngcuka was the first-ever head of the NPA. So it's never really had a chance.
The point is, with his choice of Simelane, Zuma was just continuing a trend. And he was doing it because he was well aware of how the power of the NPA could be used against him. As a human being, it's easy to understand how the thought process would work:
The NPA was used against me, I'm going to make sure it can't be used against me again. And I'm going to do that by appointing someone who is so weak, and unfit and unproper, that if necessary, I can now use the power of the NPA myself.
But we expect our presidents to be more than human. And not just because of the inspiration who was first, but because they actually have a duty to be more than we are. They have a duty to put the country above their own narrow interests.
However, even with the best will in the world, it's not just because he's human that Zuma has behaved in this way. Look at his other appointments.
Bheki Cele as National Police Commissioner. That really worked out well. Riah Phiyega. Not really an improvement. The Special Investigating Unit? Ah, what appointment? How about Mogoeng Mogoeng? Well, God wanted him to be Chief Justice, so perhaps Zuma had an inkling that Jesus really is about to come.
And then we have what seems to be Zuma's next pick for NPA head, Magistrate Stanley Gumede. What is it about this particular man that Zuma wants to choose him above all others, when he's already facing what appear to be quite serious complaints about his conduct as a magistrate? If it's true, as the DA claims, that he heard part of a case without the prosecution being present – well, then he's in big trouble.
And if their other big claim, that he released someone accused of a Schedule Six offence (which includes deliberate murder, gang rape and killing a cop) without a bail hearing is true, then Zuma is going completely against the current public mood, which seems to demand a 'tough on crime' response.
The only obvious reason remains: Zuma wants him because he will bend to his will. He will do what Zuma wants him to do.
There is, close to hand, an example of why this could be useful. In Kwa-Zulu/Natal, there has been what is called the "Amigos" case, in which the Provincial Speaker Peggy Nkonyeni and Economic Development MEC Mike Mabuyakhulu were accused of corruption relating to government contracts. They were stealing from the poor and giving to the already enriched. The two had appeared in court, and the trial was due to get going.
Then the provincial head of the NPA was changed, and suddenly the charges were withdrawn. For those with short memory, it was the KZN ANC that backed Zuma so strongly at Mangaung.
This is all well and good for Zuma. But it's not working out well for those he appoints, because South Africa is bigger than that.
In 1998, when Ngcuka was appointed, the fount of goodwill that Mbeki and the ANC could draw on was huge. It was so big, it could even withstand Mbeki's AIDS madness.
The real question is whether that goodwill is running out. Is the evil growing to the point where Jesus himself is going to have to come to smite those wrong-doers, those who have sodomised the law, and our institutions, until they are barely recognisable?
It's a big question.
What we do know is that it doesn't seem Zuma is going to change tack - despite surely realising by now that making political appointments to these jobs is massively damaging to South Africa. Does he not get it? It's a bit like leaving Patrick Lambie out of the Bok team. You can do it if you want. But you will lose another game.
It's not just those opposition voices, outside the ANC, who are anti-majoritarian (by which I think is meant those who work in the media) who believe we need to change this system. Kgalema Motlanthe, back when he was president, suggested that the head of the NPA should be appointed "on the same terms as a judge", in other words, shouldn't serve (to an extent) at the pleasure of the president. While Motlanthe isn't the most powerful person in the ANC right now, it does indicate that not everyone in the party thinks the current situation is hunky-dory.
So, if hunky-doryism is our end-goal, where to next in our search for Felicity? It's obvious, really. Zuma should bow just a little. He doesn't even have to change the law. He just needs to appoint a permanent head to the NPA because that person is a good, strong, fit and proper person.
The only thought that should go through is mind is this: If I am no longer president, and the ANC is out of power, would I trust this person to do the right thing, to protect my rights, and yet to prosecute wrong-doers where necessary?
It's not hard, really. But, dear reader, you and I both know it's just not going to happen. In Zuma's world, Lambie is going to stay on the bench. And we're gonna lose another game.
By STEPHEN GROOTES
Grootes is an Eyewitness News Reporter, and the host of the Midday Report on Talk Radio 702 and 567 Cape Talk. He studied at Rhodes.
Photo: By Greg Marinovich
Source: The Daily Maverick