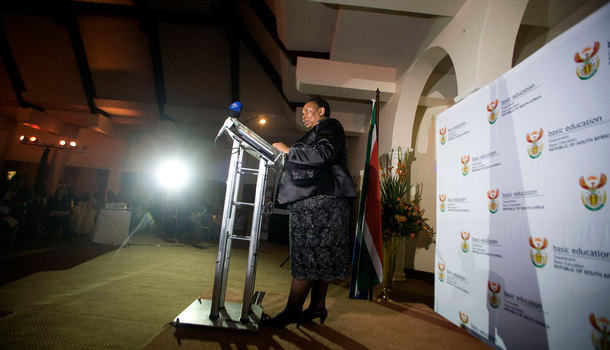 The draft norms and standards for school infrastructure that Basic Education Minister Angie Motshekga recently gazetted could well be illegal.
In that they disregard both the Constitution and the South African Schools Act.
They also appear to contravene the settlement reached between Motshekga and non-governmental organisation Equal Education in November, shortly before their case was to be heard in the Bhisho High Court.
The Constitution makes education – unlike some other socioeconomic rights – an immediately realisable one that is not subject to qualifiers such as "available resources".
Yet Motshekga's document refers eight times to realising "progressively" the right to education "within available resources".
Two years of the organisation's picketing, marching, petitioning and legal action forced Motshekga to publish the draft. The norms should constitute a crucial tool, Equal Education says, that communities can use to hold education authorities to account if they do not provide schools that are conducive to learning.
More than 90% of public schools have no libraries, almost 2500 have no water supply, 46% still use pit latrines and 913 have no toilets at all, the organisation's court papers said.
But the gazetted draft arrived last week minus specifics such as implementation dates, figures or quantities relative to school sizes – the binding nitty-gritty against which provincial compliance can be concretely measured.
This was a shocking blow. Brad Brockman, Equal Education's general secretary, said the draft norms did not "set a clear basic legal standard for school infrastructure, which all children will be entitled to and provincial education departments will be required to meet".
The settlement agreement said Motshekga would "promulgate regulations which prescribe minimum uniform norms and standards for school infrastructure in terms of section 5A of the South African Schools Act".
Educational support spaces
This section says norms must include the provision of classrooms, electricity, libraries, science laboratories and perimeter security. Yet the draft published last week does not mention perimeter security and speaks too vaguely of "educational support spaces [and] some form of a library or laboratory or media centre".
The eight-page draft pales in comparison to the very detailed 35-page draft norms published for public comment in December 2008 by then education minister Naledi Pandor. This is the document Motshekga inherited when she succeeded Pandor in 2009.
It is the vast difference between the levels of detail in the two drafts that most clearly points to what is missing from Motshekga's draft. In the 2008 draft there are tables specifying how many educational spaces, including libraries and science laboratories, a school should have. The sitting space for a pupil should be about 1.2m2. The perimeter fence should be at least 1.8m high.
Even classroom lighting is specified: "200 lux" of brightness as a minimum. "Pit and bucket latrines will not be acceptable" and no school "is allowed to function without potable clean water".
By comparison, the 2013 draft merely generalises about an "enabling teaching and learning ­environment" and "adequate sanitation facilities".
It also defers specifics to a non-binding guidelines document that Motshekga will publish 18 months after the final norms are published. But there is nothing in Motshekga's settlement agreement with Equal Education that allows for this kind of delay.
If Motshekga does not radically revamp this wholly inadequate document she deserves to be taken back to court.
Written by: Victoria John
Picture credit: Mail & Guardian Online
Victoria John studied at Rhodes University. This article was published on Mail & Guardian Online.