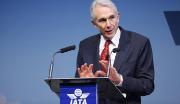 It's said that the health of the aviation industry serves as a barometer for wider economic conditions. If this is the case, the World Air Transport Summit – currently being held in Cape Town – suggests that things are tentatively on the rise. But the industry complains that profit margins remain small, and argues governments should think twice before slapping on hefty taxation – including environmental taxes.
Since World War II, the International Air Transport Association (IATA) has met annually to help coordinate strategy for the aviation sector. Not all airlines belong to the IATA, but the vast majority do: 85% of total global air traffic is represented by the body. Over the years, one can imagine that its shifting discussion priorities would represent an interesting snapshot into the history of aviation. Accident prevention no longer needs to be top of the agenda, for instance – though it's still there, of course – whereas the environmental impact of air travel has come to occupy an increasingly central spot in the discussions.
The opening address at Monday's 69th annual gathering of the IATA was given by Deputy President Kgalema Motlanthe, who used the platform to urge confidence in the growth of the African aviation industry. Motlanthe warned, however, that such growth would not take place without an openness on the continent to greater collaboration between governments and industry.
"African states must play their part in improving aviation policy by providing the necessary public infrastructure and support programmes associated with cushioning the high initial capital investments necessary for assisting the industry to grow," he said. Motlanthe said that the African Union has earmarked the development of air transport as one of its main economic objectives, particularly with an eye towards unlocking intra-Africa trade. He hailed it as an encouraging step forward that "over the years inter-regional mobility has increased, with more and more flights connecting directly within Africa".
Public Enterprises Minister Malusi Gigaba took a more hardline view on this, however, saying that many existing transport networks in Africa are a hangover from colonialism, often aimed at expediting the extraction of minerals for transfer to the West. "Seldom can one travel between African countries without transferring in Europe," Gigaba complained, calling for key airlines to be "embedded" in the African continent. The minister made no mention of the flagging economic fortunes of the state carrier; recording only his pride at SAA's status as the official airline partner to the World Air Transport Summit.
Though the potential of Africa as an under-tapped market for the aviation industry was a refrain repeatedly heard, the safety performance of African airlines continued to be flagged. "The biggest challenge is Africa, where the accident rate is 18 times worse than the global average," said IATA CEO Tony Tyler. The region's accident rate for all aircraft types more than doubled from 2011 to 2012: the latter year saw 12,44 accidents per million flights, compared with 6,17 per million in 2011.
Tyler noted, however, that the African airlines which feature on the IATA Operational Safety Audit (IOSA) registry have accident rates which align with the global average. And viewed more generally, the good news is that it's never been a safer time to fly. In 2012 there were 414 fatalities from 15 fatal accidents, a drop from 486 the previous year. In total last year there were 75 accidents, the most common cause of which was "runway excursions": in other words, planes leaving the runway on take-off or landing. You're still much safer off on a plane than in a car: almost 3 billion people flew safely on 37,5 million flights in 2012.
And there will be more of them in 2013. This year, the total number of passengers flying is expected to exceed 3 billion for the first time in history: 3,13 billion people are predicted to take to the sky. But airlines say that their profitability margin will remain thin. Last year, industry profits amounted to $2,54 per person per flight, or $7,6 billion of net post-tax profits. This year, they hope on average airlines will earn around $4 profit per person.
"That's less than the cost of a sandwich in most places," Tyler said. "This is a very tough business."
Nonetheless, $7,6 billion profit is hardly car-guard change. The question was posed to IATA chief economist Brian Pearce: if that isn't considered an appropriate profit margin, what is? What should profit per passenger look like?
"Investors in airlines are earning returns perhaps a third lower than if they invested their capital elsewhere," Pearce responded.
The weak economic outlook has contributed to what industry players see as disappointingly thin margins, as has the price of jet fuel, which has increased 55% in the period between 2006 and 2013. Under these circumstances, the price of fares alone has been unable to sustain airlines. "Airlines have found new ways to add value to passenger journeys, boosting ancillary revenues," records an IATA press release. What this means is that passengers have started paying for practically anything not nailed down on a flight. Possibly the most infamous example of this was when UK no-frills airline Ryanair announced plans to start charging customers for using the toilet. (Then again, this is the same airline that attempted to introduce standing-only tickets on planes.
The biggest demonstrator of the slowed global economic activity in terms of the industry has been the drop in the cargo business, which hasn't grown significantly since 2010. Dipping trade among developed economies has meant a contraction of freight volumes, even as passenger numbers continue to grow.
"Travel has been rising since the recession despite weak economic conditions," Pearce said. "Those are the effects of emerging markets driving travel." China remains the strongest domestic air travel market. Throughout the world, Pearce says, this growth in passenger travel can likely be credited to the expanding global middle class.
Nonetheless, Africa is again lagging behind in the passenger stakes. The passenger load factors (how full the planes are, essentially) of African airlines remain below 70%, while the industry-wide average load factor is expected to tip 80,3% this year. The continent's airlines are expected to post a profit of $100 million this year: well below the average, but an improvement on last year's loss of $100 million. IATA explains that African airlines face certain unique problems: a higher cost of fuel; competition on long-haul flights from non-African carriers; and the lack of regional connectivity to which Minister Gigaba alluded.
Arguably the most controversial item on IATA's agenda this year was the issue of the industry's impact on the environment. Unsurprisingly, there was little handwringing in evidence on this score: rather, in fact, a fair amount of self-congratulation about the industry's attempts to tackle the problem.
A position paper presented by the global aviation industry at the Doha climate talks last November noted that in 2011, air travel emitted 676 million tons of CO2 – which only amounts to 2% of the global total. Environment groups point out, however, that aviation is the most emission-intensive form of transport on the planet, and the fastest growing source of carbon emissions – together with shipping – contributing to climate instability and extreme weather.
Biofuels – made from sources like algae, non-food crops and waste – have long been touted as one (partial) solution: it's believed they could reduce CO2 emissions by 80%. "Over 1,500 passenger flights so far have demonstrated that the use of biofuel from these sources as "drop-in" fuels is safe and technically sound," last year's position paper stated. But biofuels didn't get much of a mention on Monday in Cape Town, beyond Tyler stating that "we are now pushing governments to provide the incentives needed for investors and our oil industry partners to be able to commercialise production at costs we can afford".
Instead, the environmental discussion at the summit focused on establishing a set of principles on how governments could implement a single "market-based measure" to curb emissions – but only after 2020. The industry is adamant that only a unified approach can be considered, rather than individual governments taking unilateral action. "The safe, orderly and efficient functioning of today's international air transport system relies on the adoption of commonly-agreed standards, rules and regulations", the Doha paper emphasised.
There was pressure on IATA to adopt a global resolution at this year's summit, since the EU previously suspended a proposed emissions trading scheme for a year to allow for the development of a global system. Before the environmental resolution was put to the vote, Tyler gave an impassioned address to delegates urging unity: "If we don't agree, governments will decide on our behalf," he warned. "Some will impose environmental taxes." Without a united industry position, Tyler said, "we leave ourselves defenceless to fight what governments come up with."
Of course, letting the polluting industry decide how best to regulate itself might sound about as sensible as letting rich people decide how much tax they feel like paying. Tyler admitted that the industry's desires in this regard might not be accepted. "There's no guarantee that what we say we want will be implemented," he said. "But if we don't say what we want it's certain we won't like the outcome."
In the end, the environmental resolution – "Implementation of the Aviation Carbon-Neutral Growth (CNG2020) Strategy" – was "overwhelmingly" endorsed. State-owned Chinese and Indian airlines voted against it; in Reuters' words, "echoing what analysts see as the reluctance of their governments to set a precedent for wider climate control talks."
The resolution doesn't read as revolutionary. It seems most concerned with addressing issues of fairness within the industry about who has to pay what when the time comes – post 2020 – to foot the bill for carbon credits. "Is it fair that a smaller but growing airline should have to pay more than a much bigger airline, just because the bigger one got its growth in before 2020?" Tyler asked. As such, among its principles are that the bills will be doled out by considering questions like the relevant carrier's share of total industry emissions.
The resolution also calls for setting post 2020 carbon caps based on average annual total emissions over 2018-2020; for the reporting of carbon emissions based on a single global standard; and for instituting periodic reviews of carbon-cutting performance that may revise "individual elements and parameters as appropriate".
Environmentalists will no doubt say that the industry should be doing much more, much faster. But the aviation industry insists that the lens needs to be flipped around: what is needed is an "aviation solution to a climate problem" and not a "climate solution to an aviation problem". The industry says the ball is now in governments' courts.
Written by: Rebecca Davis
Picture credit: Daily Maverick
This article was published on Daily Maverick.