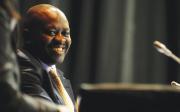 Newly appointed Constitutional Court Justice Mbuyiseli Madlanga has warned that groups who are not represented on the Bench may be "at the receiving end of injustice".
Madlanga (51), a senior advocate who was born in Eastern Cape, believes transformation of the judiciary is necessary at all levels of the Bench in order to develop the country's justice system.
He spoke to City Press following his appointment on Monday by President Jacob Zuma to the highest court in the land, where he replaces Zak Yacoob, who retired earlier this year.
His appointment becomes effective on August 1.
"Transformation of the judiciary is imperative. Try as hard as one may to be open-minded, there is that self that one brings to the Bench and which one cannot extricate oneself from.
"One is what he or she is not only because of the innate make-up but also as a result of external influences like race, background, education, culture, etc.
"If the Bench is not demographically representative, the groups that are not represented in it will forever not only be disadvantaged, but may well be at the receiving end of injustice," he warned.
Madlanga says his appointment as the chief evidence leader at the Marikana Commission of Inquiry fills him with a "sense of awe".
Madlanga, who was born in Njijini village in Mount Frere, in the former Transkei homeland, admits being caught by surprise when he was appointed to what he sees as the highlight of his career.
"It is in the nature of competition that the outcome is hardly ever a foregone conclusion. And in this instance, it most definitely was not."
Madlanga says the most important attribute to have as a Constitutional Court judge is to be true to one's oath of office.
Asked what he brings to the Bench, Madlanga said he wants to achieve justice in accordance with the Constitution.
Being the chief evidence leader at the Marikana Commission of Inquiry is a huge task, which at times evokes a lot of emotions and pain.
His late father encouraged him to study law, though he was not himself a lawyer.
Madlanga has held various positions within the country in the legal fraternity and had a brief stint as a lecturer at the erstwhile University of Transkei (Unitra), where he was once a law student.
He holds a B.Juris degree from Unitra, an LLB from Rhodes University and an LLM degree from the University of Notre Dame in the US.
He was awarded the Juta prize for best law student in 1981 while at Unitra, where he also practised as part-time lecturer in 1987 before becoming a full-time teacher the following year.
From 1991, he practised as an advocate in Mthatha until 1996, when he became a judge of the high court until 2001.
Between 1998 and 1999, Madlanga acted as a judge in the Supreme Court of Appeal in Bloemfontein.
In 2000, he was appointed as acting judge president of the Transkei division of the high court, while also acting as a justice of the Constitutional Court.
Madlanga resigned from the Bench in 2001 for financial reasons.
He told the Judicial Service Commission during his interview that he had a family of six children to look after and at the time couldn't afford to be a judge.
But circumstances have changed since then and he is now ready to don the robes again.
Madlanga, who is of the Radebe clan, says his wife Nosisi is not in the legal fraternity, but his legal genes had passed on to their offspring, as two of their children are studying law.
His candid advice to aspirant lawyers and young people is: "There is no substitute for hard work."
Written by: Lubabalo Ngcukana
Picture credit: City Press
This article was published on City Press.