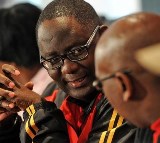 Late on Monday night it emerged, through "sources", as is tradition, that Cosatu's top leaders have decided to call a special meeting of its Central Executive Committee for the end of next week.
There will really be only one item on the agenda: Must Zwelinzima Vavi go through a disciplinary hearing or not? Or, to put it in newspaper billboard speak, "Cosatu to decide whether to sack Vavi". The fact that Vavi's enemies are going this far speaks volumes about their real intentions. It's also an indication of how bloody stupid he was to get himself into this position. But the real lesson is that Cosatu is heading for a perfect storm.
Cosatu was at great pains on Monday to stress that its national leaders were only engaged in a normal, routine meeting. But it was a meeting of what Cosatu unfortunately calls its National Office Bearers. By the end of it, Vavi may well have thought a prefix "K" was necessary. Because whatever happened in there, and there'll be some glorious spin through sources on this one, it was clearly pretty ugly.
The only other certainty is that Vavi was fairly isolated, and didn't have the political power to swing it his way. However, the NOBs clearly don't feel they have the power to finish the job, by making the decision themselves to send Vavi off to the disciplinary inquiry.
And so off this dispute goes to the higher office, the next playing field of the CEC. At these moments, it's always worth doing one's homework. In this case, that means taking a look at the constitution of whichever organisation is about to have the political dingdong, and looking for the relevant power of its top body. And so to Cosatu's website we go, to look for the CEC.
A quick glance through it does seem to make things pretty clear. A decision is a decision (really, you have to love the lawyers) if it's properly proposed, seconded, and then agreed to by a simple majority.
And so, if we accept, cynics that we are, that as always in sex and politics, the facts don't actually matter, this will come down to a simple straight-out fight. There will be Vavi's allies on one side, and Vavi's enemies on the other.
And the playing field could not be any worse. We will have people who are politically motivated claiming that anything between "two adults" is ok, and we will have the pious lot on the other side crying crocodile tears about how much older Vavi is than his accuser, and how dare he, how dare he, I say, put his desk to a non-approved use.
It's gonna be uggggly.
And while there'll be plenty of misery to go around, that's not the real story. The real story is about something more complex. It's about the context in which this is happening.
The tensions that exist now between Vavi and the other top Cosatu leaders have existed for quite some time. They were already evident before Cosatu's conference last year.
But everyone decided to do a deal. Rather than take the risk of actually trying to get anyone out, everyone agreed to simply hold the status quo. It suited them, and they were all too bloody scared to lose their office. And so everyone ran for their post uncontested. Thus Cosatu went to Mangaung a house divided. And in through the gap marched the nefariously capitalist and reactionary National Development Plan.
So those tensions have not gone away, they've simply risen to the point where the people involved can't stand being in the same room together. And those who control the smoke-filled room of the CEC have decided they're powerful enough to do away with Vavi, who seems far more popular among the Cosatu members. But what we have here is a good old-fashioned 'elites thinking they know best' scenario. They daren't risk taking this issue to a vote, so they're going to get him out through dark machinations.
The problem is, no one knows how Cosatu's members will react. They haven't had a voice, they've been ignored. Many will probably do nothing. Some publicly vent their anger. Others may just quietly leave their union at some point, because they don't feel a part of it all anymore.
Even if none of that happens, it would be impossible for the CEC to claim, hands on hearts, that doing it like this is healthier than a vote at the Congress last year would have been. That's what should have happened, and now it's going to get nasty.
And this could not happen at a worst time for Cosatu, and the Alliance more generally. The rock upon which Cosatu was founded, the National Union of Mineworkers, is beginning to be ground down by the pressures brought to bear by the Association of Mineworkers and Construction Union (AMCU), its perceived closeness to management, and a slowing global economy.
Meanwhile, the National Union of Metalworkers of SA (Numsa), led by the much more radical Irwin Jim, has grown dramatically, and has its eyes on being the heir apparent. (Numsa, in case you'd forgotten, backs Vavi, the NUM is against him.)
In this battle between the Cosatu elephants, the grass had better pick sides. The other smaller unions have already started to jump this way and that, and will be forced to dance quite cleverly over the next few days.
But the fact remains: while everyone does focus on Vavi's, and NUM's, problems, Cosatu has major other issues. Its transport affiliate, the South African Transport and Allied Workers Union (Satawu), has started to splinter, while other unions are also coming under pressure. Several of these cases have the same features, a pissed-off former union leader who got hounded out for some reason, and then a toxic mix of unhappiness, perceived corruption and frustration with the status quo that today afflicts many a Cosatu-aligned union.
It's going to be hard for Cosatu to deal with these problems at the best of times; if it's divided over the Vavi issue, it's going to be almost impossible. And that's before they even start the fight over who should take over from Vavi, if he does go.
And then we have next year's elections. Cosatu is often relied upon by the ANC to get out the vote. Vavi claimed in 2011 that he was the only Alliance leader who could campaign in Port Elizabeth, without getting stones thrown at him. If Cosatu is still divided going into those polls, that effort will be badly damaged.
And there's another bigger, more complex problem for the Alliance. It's losing its safety valves too quickly. When Julius Malema was in his pomp, his one major use was that he could be sent to an angry township, and had the legitimacy to tell thousands of stone-throwers that he was as angry as they were, and would go to the Union Buildings or Luthuli House or wherever, and sort things out. Once he was gone, Vavi had the ability to play a similar role. One of the reasons for last year's Marikana shootings might well be that it was the first time he was turned away, told not to interfere with what was seen as NUM's internal issue.
To sum it all up, there is no way any of this is good news for anybody in Cosatu and the Alliance. And the real problem with this decision by the NOBs, is that once it goes to the CEC, a decision will have to be made. When it comes to sex, there is usually no middle ground. So many people are going to come out of this furious. And anger is seldom an aid to good decision-making. Ask Julius.
Grootes is the host of the Midday Report on Talk Radio 702 and 567 Cape Talk, and the Senior Political Correspondent for Eyewitness News. He's been part of the political hack pack since before the Polokwane Tsunami, and covers politics in a slightly obsessive manner. Those who love him have recommended help for his politics addiction. He quotes Amy Winehouse.
Photo Caption: Cosatu general-secretary Zwelinzima Vavi speaks to the trade union federation's president Sidumo Dlamini (R) at a news conference in Johannesburg on Wednesday, 29 May 2013.Cosatu was briefing media after its central executive committee (CEC) meeting earlier this week. Picture: Werner Beukes/SAPA
By: STEPHEN GROOTES
Grootes is the host of the Midday Report on Talk Radio 702 and 567 Cape Talk, and the Senior Political Correspondent for Eyewitness News. Grootes is a Rhodes university graduate.
Article Source: The Daily Maverick