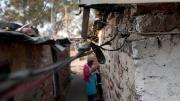 Illegal connections are sucking a special-needs school dry and endangering staff and pupils.
Pupils with mental and physical disabilities at a special school in Johannesburg's Alexandra township run the risk of being electrocuted or caught in a fire because of the illegal electricity connections that surround the school.
Nokuthula Special School's ability to manage this grim problem has been hindered by the Gauteng education department's decision to cut about 50% of the school's funding, its governing body said.
"Sometimes, electricity thieves run wires over the roof to the shacks behind it. Some of these wires are not insulated ... A naked wire on a steel roof means the whole roof is live," said Byron Maphike, chairperson of the school's governing body.
This week the Mail & Guardian saw wires connected to the school's substation, located a few metres from the school wall, dug into shallow trenches around the school to supply desperate families living in shacks behind the building who have no electricity.
The connections were not all underground. Nests of exposed wire could be seen every few metres sticking out of the trenches.
"Careful … If you touch that, you're gone," Maphike said during the M&G's visit on Tuesday.
"We tell our children, but they don't understand how dangerous these wires are."
In September last year part of the school burned down because of a fire caused by these illegal connections, causing damage of about R2.2-million, Maphike said.
"The fire happened on a Saturday when there was no one around, thank god," he said.
"Where did you park your car? Outside on the road? Because about six weeks ago a teacher's car caught alight because the pressure from its weight was too much for the illegal connections running a few centimetres under the road."
Walking through the warehouse that was converted into what is now Nokuthula School, Maphike pointed to a mentally disabled pupil walking in front of us.
"You see a child like this … he wouldn't even know which direction to go in if there was a fire."
There are about 300 pupils at the school. "We've also got profoundly handicapped pupils here who are in wheelchairs and can't move at all. How would we get these children out quickly in a fire?"
A view from a room at the top of the school building shows wires criss-crossing over the walls behind the school and sinking into the web of shack roofs below.
Electricity theft has bloated the school's electricity bill by about R60 000 a month.
"It is ridiculous, since we budget to spend only about R10 000 a month on electricity and yet our bill was about R74 000 last month," Maphike said. "Imagine what we could use that money for if we weren't spending it on electricity for other people's homes."
A teacher told Maphike recently that the school wanted to start classes specifically for autistic children and had received the go-ahead from donors, but could not assure them of the safety of the expensive equipment they would be donating. The plan was put on hold.
Maphike said Eskom had been ineffective in stopping the illegal connections and the Gauteng education department had reneged on its promise to build a new school at a safer location.
"If Eskom wants to make a good example of its anti-electricity theft campaign, it must start here."
Eskom staff members came to the school with armed security guards to remove the connections, he said, while walking along the trench around a corner of the school's peripheral wall.
"Community members are protective of the electricity they get from thieves. They can be aggressive."
The department had been promising for 10 years to build a new school for the pupils, Maphike said, "but each year, we are told 'there are now other priorities'".
"The latest promise made to us was that we would be moved within 18 months from January 2014."
To add to the school's hardships, since the 2010/11 financial year, the department has not given Nokuthula the funding schools with disabled pupils receive for operational costs such as pupil transport.
"It makes up about 50% of the funding the school gets from the department," Maphike said. Nokuthula is a no-fee school.
"The grant was not renewed, so various donors helped pay for things like bus drivers' salaries, but these donations aren't sustainable and we stand to lose very important facilities," he said.
The department's announcement that seven teachers' assistants would not be included on this year's staff list "just made everything even worse".
"We've been fighting this, so they are still at the school, but all in all, we feel [we have been] forgotten by the department and [by] society," Maphike said.
"Our heartache comes from the way special schools are treated generally. People care only about matric results and what happens at mainstream schools. Special schools are, I'm afraid, treated as leper colonies.
"Disabled children are pupils too. They are beautiful human beings."
Gauteng education department spokesperson Gershwin Chuenyane said: "Thank you for bringing this to our attention. The situation at the school is totally unacceptable. The head of department has convened an emergency team, which includes the department's infrastructure unit and is at the school to expedite a short-term solution. And the team will also ensure the fast-tracking of the long-term solution, which is the construction of a school site in Lyndhurst."
Eskom acknowledged receipt of the M&G's questions but did not respond any further.
Written by: Victoria John
Picture credit: Mail & Guardian
This article was published on Mail & Guardian.